eCommerce: It's in the Bag
When it comes to user experience in eCommerce, the checkout is the final stage in the overall process, so, ultimately it better be a good one. Delivering a seamless point of sale is crucial, however many online businesses are making glaring errors. One of our lovely comms girls Lowri asks, are you one of them?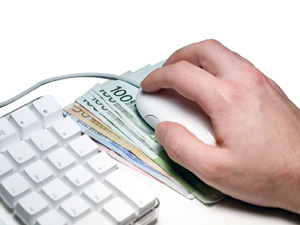 Delivery is a huge part of a user's journey and the checkout experience must be a smooth, pleasant and uninterrupted one at that. Research shows three seconds is all it takes to lose a customer and when it comes to eCommerce, patience is absolutely not a virtue. The market is massive and the competition is fierce; as an online retailer, you have to be the best.
With £10bn spent online last year alone, businesses in eCommerce must step up their game to beat off competition and ensure their site is revisited again and again, and again. A study by RJ Metrics found that loyal, retuning customers spend three times more per order than new customers; proving that the checkout experience can have a detrimental effect on user experience.
According to Tom New, co-founder of Formisimo, over the past four years shopping cart abandonment consistently stayed above 68%; a shockingly high statistic for online business owners.
Tom re-iterated: "Losing a customer at the checkout is criminal. You work so hard for your customers to get to that checkout point, so losing them is tragic. Two thirds of people that start to complete online checkout abandon it. Get the basics right. Make sure your users can save their details. Otherwise it can cost your business a fortune."
Shopping cart abandonment continues to affect eCommerce on a global scale; don't allow your company to be one of them. Here are some top tips from our round table experts on how to make sure your customer doesn't abandon that final, crucial stage.
Top Tips for a Smooth Checkout Transition:
"Delivery is a huge part of the user's journey, so offering multiple delivery options is key. It's been proven that a user is more likely to buy with you if you're providing a range of delivery options. It really can impact conversion rates if you don't get your delivery proposition right." David Grimes, My Parcel Delivery
"Make sure it's a smooth sailing experience right from the start. User experience has to be consistent, any minor hurdles before the cart could only increase the chances of shopping cart abandonment." Kevin Jones, Tecmark
"Communication is key for positive user experience in ecommerce. Provide the customer with a smooth journey right from the start." Steve Morris
"Page-load speeds must be quick; as the customer goes through the whole journey it should all be pain-free. Automate things at the checkout, for example postcode lookups. Don't make the user fill out their entire address. Understand the pain points and prevent them from occurring. It's important to keep the process as simple as possible." Robert Fernandez, Rattan Direct
For more information on how to be great at eCommerce, download our guide now!