How to Excel at eCommerce
Let's face it – if I can buy a new dress online without having to leave the comfort of my sofa, or even turn off the episode of Geordie Shore that I definitely don't ever watch, then I'm gonna do it. eCommerce is now a billion pound industry and it's only set to get bigger, so it's important to make sure you know what you're doing; and on the flipside, that you know what it'll cost you if you don't.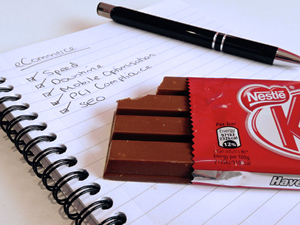 In the last four seconds, nearly 2,090 KitKats were eaten around the world, which is pretty delicious. Do you know what's not delicious though? The fact that if your site takes longer than four seconds to load 25% of your customers will get so bored they leave your site (presumably because there were no KitKats to hand).
This could translate into mega losses in our attention-deficient world – to put it in perspective, a site turning over £1million per year loses £75,000 per year if the site loads in 4 versus 3 seconds. That's a costly second.
At the end of the day, any loss is a mega loss to an SME, and considering that in the next two years alone eCommerce sales in western Europe are expected to grow to 191 billion euros, these kinds of losses could become commonplace as more businesses move their offerings online.
It can also have a tragic effect on repeat business. 79% of shoppers who are dissatisfied with website performance are less likely to buy from the same site again, and 80% of consumers that abandon a site because it is too slow will never come back. This is all custom that you may as well send to your competitors on a silver platter, simply because you didn't take a few steps to ensure that your site was running smoothly.
Fear not though, by keeping in mind a few key things you can keep your customers happy – from speed to mobile and search engine optimisation, our eCommerce checklist explores how to ensure that your site is performing at its best ready for the festive season.
Download our guide now and find out how to excel at eCommerce!