First Impressions working at UKFast
One of our newest comms recruits, Nadia, talks about her first impressions of UKFast, working for Lawrence Jones MBE and how we do things differently here!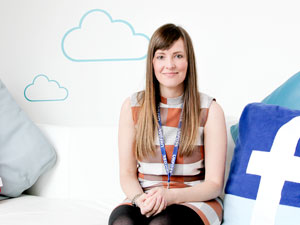 'Invitation Accepted'. When I 'LinkedIn' with the CEO of UKFast I had no idea that I was about to experience my first taster of life in the UKFast lane. An informal chat with the founder of a cloud computing company quite literally changed my life.
Before I knew it I was engrossed in a telephone conversation with Lawrence Jones of UKFast – naively I suggested coffee, unaware of quite who I was speaking to, but I guess that's testament to how comfortable I felt talking to him and reflective of how Lawrence is as a CEO: unassuming.  Liz, the communications director, joined us on the call and she further cemented in my mind that this was the kind of place I wanted to work. Why? Because, despite being a graduate, they had faith in my ability to succeed in the communications team and reassured me that they'd guide me where necessary.
After being told about these amazing offices, I immediately embarked on a Google image search – I had to see for myself. Fortunately I did get to see them for myself – on my first day.
It's been over a month since the telephone conversation and I've learnt so much already – and I continue to learn and add to the growing bank of knowledge; not only in terms of my role but also in learning more and more about developing technologies, which is really interesting!
I feel a sense of empowerment working for UKFast. My team allow me to make professional decisions and I feel like an integral part in the machine here – albeit a small one. I believe that an environment that is encouraging is a fail-proof system, as I know that in my case it pushes me to strive for more and be the best that I can be. I know that I'll always be supported by an incredible team.
There's a lot to be said about the role that instinct plays when making an important life decision, and I have to say my instincts kicked in as soon as I walked through the door. If you strip away the fancy-pants office (and it is fancy) it's the incredible people who really make UKFast – we're all about the people. There is an infectious buzz about the place – it's full of energetic people probably powered by the daily fresh fruit on offer each day (loving the fruit!).
What is striking is that despite the fact that there is a hierarchy within the organisation, it isn't noticeable, as everybody mucks in. I saw the MD wheeling out a trolley of empty glasses after an event – no job is too menial for anyone.
It isn't hard to feel inspired by the humble beginnings of this family business and the dedication and tenacity that it's taken to get it to where it is now. But what's even more exhilarating is that it continues to grow, so I feel it's an incredibly exciting time to join UKFast. Being immersed among individuals that are innovative, talented and creative is definitely where I want to be.
People here are motivated by their goals, whether professional or personal, and it's an environment that's positively infectious. Managers here have vision; they are a guide, a mentor and someone to look up to, and they want you to succeed and develop.
If I could sum up the past few weeks I'd say it has been energetic, fast-paced and exciting. I feel incredibly lucky to be able to come in every day and love what I do, and the people I do it with, and I'd say that's pretty special!
Find out if there's a place for you in the UKFast team on our careers page!