Mobile IoT: The Possibilities of the Internet of Things
We need to change the way we regard technology. It's happened before and it needs to happen again, and soon, otherwise we could be missing out on the huge opportunities that the IoT brings. Yesterday we were lucky enough to have Smart Things talking at the Mobile Monday Manchester event at UKFast campus, exploring the possibility of the 'Internet of Things'. They told us that the possibilities are huge, but first we need to start regarding it as a necessity, rather than a novelty.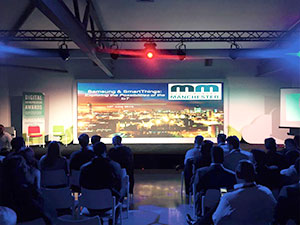 The IoT is – relatively – still in its infancy, however trends indicate that it's growing in the retail commercial and industrial sectors.  And when this happens, it's important to get involved, or risk getting left behind.
Our speakers tell us that we need to start seriously looking at what smart things will be driving this future powered by the IoT. Currently the offerings tend to be more gimmicky, yet it's turning out to be an incredible opportunity that might pass us by if we keep it that way. Smart Things want it to get to the point where we ask ourselves that if the tech was taken away, would we miss it? But we've got a way to go 'til we get to that point.
The benefits could, the talk argued, touch many different areas, both for necessities – like SAD sufferers and IoT lamps – and comforts, like your favourite music being triggered when you walk into a room. There could also be huge time and cost-saving opportunities in service areas, like a one-time access to your porch for the Postman so that missed deliveries become obsolete. There's also potential in small but incredibly frustrating everyday areas we can all relate to, like having a sensor on our washing machine could tell us when our laundry is done (no more musty forgotten washing!).
It's already having proven benefits for our home security too. For example, the talk mentioned a housing company with 28,000 houses on their books that experienced high volumes of boiler theft. By installing an anti-theft sensor on the boiler they saved both time and money as the sensors cost less than the company was losing in theft, not to mention the reputational damage and hassle.
This would be of value for energy companies in terms of consumption monitoring. It's about using the data for the greater good also since an energy company may be able to use the data to pinpoint where improvements can be made within the home in order to save both energy and money.
There are challenges though which could cause the IoT to come a cropper. Step one is gaining approval and certification as we integrate the IoT with other industries such as pharmaceuticals, gaining their trust and working with them rather than trying to stick a square peg in a round hole.
One major concern at this stage is obviously the security of the data behind the technology, particularly the privacy and slightly stalkerish nature of some of the tech with location settings. These issues need to be cracked before people will trust it.
Data privacy and transparency is also a key issue, however as long as companies are careful this doesn't have to be a problem. Smart Things stores its data in the cloud and that data belongs to the customer – they assure us that there are no plans to sell this data even though there is opportunity to, however not everyone will be as scrupulous.
Other challenges come in the form of wide-scale adoptions. Is it all too much of a novelty? Do we really need a wine cellar that refills itself? (Yes, of course we do.) At the moment the audience is primarily the tech and hobbyist community, but it needs to go mainstream for it to have any lasting impact. Education is key, says Smart Things, and once businesses and consumers alike realise what's possible and why it's can help us, then we can really unlock the potential of the IoT.
To come along to, or get involved in a UKFast event take a look at our website!