Fridays at UKFast – 12th June
It's Friday, but not just any Friday! We have some big UKFast news before you get on with your weekend, and you might want to catch up with what's been going on in the world of tech too! This week we've been discussing where your greatest sales force lies, whether 2015 could be the year of the cyber threat, the big names saying no to weaker encryption and an inspirational event. Have a great weekend!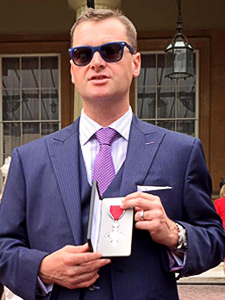 A crowning achievement
Following our incredible news at the end of last year, our CEO Lawrence Jones met the Queen today to receive his MBE for services to the digital economy. It's a huge testament to the hard work that Lawrence has put into helping UKFast's clients to grow, and in doing so, helping to grow the digital economy.
However, Lawrence was quick to share the success, saying: "As nice as it is being recognised, you don't get these awards because of the work of one person. I am the extension of an amazing organisation, so this is an award for everybody in UKFast. That's how I see it." Congratulations Lawrence, it's an amazing achievement!
Connect Anywhere
A new startup is attempting to banish not-spots by creating a Sim that will connect you to whichever network has the best signal near you. Sounds pretty great – no more hanging out of a window at my mum's house in the countryside trying to receive texts right? However, an expert reckons that cost might stop people from jumping on the bandwagon as it's way more expensive than regular services.
The main providers – Vodaphone, EE, O2 and Three – have so far resisted pressure to offer this service themselves, even when Business Secretary Sajid Javid suggested they at least switch users to 2G services when their network drops out. Instead the big four have created bilateral network-sharing agreements.
You can buy the Sims on their website, as well as eBay and Amazon, and it's pay-as-you-go although there are pay monthly plans in the works. It'll be great for people who live in more rural areas or do sports off the beaten track, however, there are a few things that the discerning roamer needs to know first – for example, you can't switch networks mid-call, so if you wander outside a coverage zone you're still in trouble.
Wearables to stop sun scare(ables)
If – like me – you're cursed with freakishly burnable skin, then this new wearable will be a godsend. A little patch monitors your UV rays and tells you when you've had too much. Ideally it'll be integrated into a flexible material like rubber, then you can keep it on when you're in the sea too. It could potentially also be used to pick up on other harmful gases like hydrogen and nitrogen oxide.
Switching up the material from the standard silicon could be integral to the future of wearables too; so far it's not been an ideal material for incorporating tech, but if it works it could mean wearables are used in other objects like backpacks etc. If it works well it could be the next step to "integrate sensors into the human body".
A core music service from Apple
Music is Apple's new music streaming service and it offers social media features as well as radio streaming. It'll be available at the end of the month in over 100 countries and if you have iOS or iTunes you can get it. Spotify is probably more than a little worried, as the streaming company now has a mega new rival.
It'll replace the Music app on devices and will be built into iTunes desktop versions; the Android and Apple TV versions will then be launched in the Autumn. You can get involved for $9.99 a month or you can get a discounted family version, though it's free for the first three months. Siri's up for helping you play songs too, even if it's a complicated request like "play the top song from May 1982", or "play songs from [the film] Selma".
COMPETITION ALERT:
Like free stuff? Who doesn't?? Someone could offer me a free spork and I would still get disproportionately excited about it. So considering that we're offering the chance to win a year's free hybrid cloud – worth £16k – it's something to legit get excited about; make sure you enter pronto!
You don't need to like Chris Pratt or TOWIE to appreciate him nailing the Essex accent
Have a crackin' weekend!