Inspired Manchester
We are onto something in this city. There are startups everywhere you look and our CEO Lawrence Jones believes that it's the responsibility of the entrepreneurs and businesspeople who've been there and done the whole 'startup phase' to step up and share what they know. This belief is exactly why we invited Lawrence to take the stage at UKFast Campus with Brother UK MD Phil Jones to share what they've learned along the way.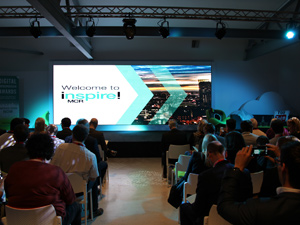 Joining the seasoned businessmen, Chris Percival of Jigsaw Medical and Dan Cluderay of Approved Foods took a grilling from Chris Maguire, editor of Insider North West (who was kinda caught off-guard, having been brought on stage by Lawrence who's been interviewed in the past by the well-known journalist).
So what are the top 5 things we learnt from these business behemoths?
"Time flies but you're the pilot." Phil Jones spoke about five of fifty things for a happier, more successful life. His focus was efficiency. Many people are 'going nowhere fast' – are you one of them? Put down the phone, disconnect the wifi and live in the moment. Do you want to your epitaph to be "Always had their face in their phone"?
Connect the people to your product. Did you know that Dan Cluderay of Approved Foods once ate a 35-year-old Double Decker bar? That's not the main takeaway point though, but it is pretty cool (or gross?). Dan made a business from selling food that's close or past its best before date. He once bought £125,000 worth of nettle tea for £2,000 but couldn't shift it on his market stalls. So he hit the internet and searched for nettle tea lovers. He set up a website, shifted the lot and now has a £4m turnover eCommerce business.
Dream big. Setting up Jigsaw Medical at university and now running the £500,000 turnover business, Chris has set his sights on £200m turnover by 2020. And why not?! In Lawrence's words: "The only limit is your imagination. Kids dream big and so should we".
"No excuses. Write it down and make it happen." Like Lawrence said, it's science. A university study in the 1950s  showed that out of the students covered over a decade, the 3% who'd written their goals at the start of the study were collectively worth more than the 97% who hadn't, combined! Lawrence also had a word of warning to 'be careful what you wish for' though, having encouraged a team member, Jack, to write his goals down – one of which was to be a pilot. Despite being older than the acceptance age and a little shorter in stature than required, Jack went on to be a BA pilot!
Never give up. Phil spoke briefly of his childhood, the tough background he came from and how people used to donate bags of clothes for him to wear. Dan was made redundant at 26, then turned down on Dragons' Den in front of millions of people. Chris started Jigsaw by buying an old vehicle from his Dad with his student loan. Lawrence had his fair share of business flops and was very, very nearly killed by avalanche in 2001. What does all of this teach us? Don't give up! As Phil Jones (kinda) said: "Turn the *poop* into fertiliser!".
For more information on how to get involved with, or come along to, a UKFast event take a look at our website!