Cloud Computing Hits New Highs
Cloud computing was once mostly the realm of forward-thinking hosters with their head in the clouds. Now though, it's hitting record highs, with an adoption rate of over 80% in the UK for the first time ever! Here's why you should get your head in the clouds too.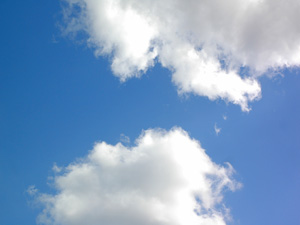 According to the Cloud Industry Forum (CIF), cloud adoption has hit 80% for the first time – up from about 48% in 2010 – pushing cloud firmly into the centre of IT infrastructure.
It's still on its way up though, as Alex Hilton, CEO of the CIF said: "What is clear is that cloud isn't yet all things to all men and that cloud will continue to sit alongside on-premise solutions for quite some time to come.
"Although more organisations than ever are committing to a 100 percent cloud environment, the vast majority are a long way from migrating their entire IT estates; just 15 percent consider their primary IT model to now be cloud, and around half of businesses cannot foresee a time when they will move all of their IT to the cloud – instead managing a blend of IT delivery models."
But ultimately, the proof is in the pudding, as the report also showed that 90% of organisations using cloud services are satisfied customers, and 70% expect to increase their usage over the coming year; 56% also reckon it's provided them with a competitive advantage. The report says that it is actually also mostly delivering the benefits that the industry promised it would.
Hilton also thinks that with support for Windows server 2003 ending it could encourage more organisations to get ahead in the cloud.
He explained: "While first-time adoption is likely to slow somewhat, penetration of cloud services within organisations, which appears to be happening at a faster rate than we had anticipated, will continue unencumbered. Assuming, that is, that Cloud Service Providers can effectively put forward the business case for adoption and build further confidence amongst end users by improving levels of accountability, capability and transparency."
With 64% of those asked saying they were expecting to increase their cloud usage over the next 12 months, and CIF reckoning that by early 2016 86% of UK-based organisations will formally use at least one cloud service, it seems that it'll soon be those not using cloud services that will get left behind.
Moving to the cloud can seem a bit daunting at first but it really doesn't have to be. Our own service – eCloud – comes in three beautiful incarnations, so there's something for everyone.
With all of our eCloud solutions you get cutting-edge technology from the world's leading IT providers, including SGI, 3PAR, VMware and Cisco, combined with our cloud hosting expertise; brought together to bring you a flexible, cost effective and secure cloud solution. We also give British-based support for eCloud 24/7/365 from dedicated and experienced technicians.
Which eCloud would be best for you?
Public – this gives you shared space on the internet, which means the cost is lower but you still have access to high-performance infrastructure and scalable resources.
Private – you get 100% dedicated virtual resources offering our most secure cloud environment, and ultimate performance guaranteed.
Hybrid – a blend of the two options creating your own virtual data centre. You get high performance hosting, scalable as you require. 
For more information on how eCloud could make your business a high flyer, take a look at our website or give us a call on 0208 045 4945.