Maggie's Coming to the Christie
At UKFast we know all about creating great spaces. The team here have a fantastic environment to come into each day. We call it a campus rather than an office, and that's what it feels like – a place where we learn and play, work and relax. That's why there is so much appreciation here for Maggie's; a charity building amazing cancer support centres across the country that provide tranquility and a community for people fighting such an awful illness. Today's guest blogger, Bryn, explains why we are so happy to hear that Maggie's is coming to Manchester.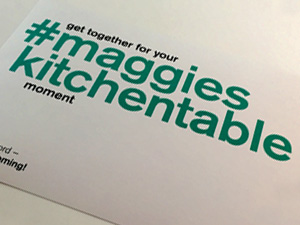 The need for charities like Maggie's has never been greater. There are some sobering statistics out there that put into perspective just how mammoth the fight against cancer has become. It was estimated that 1 in 2 people born after 1960 will be diagnosed with some form of cancer in their lifetime; in the North West, around 50,000 people are diagnosed each year. The work that Maggie's does is so important and the fact that the charity is setting up in Manchester should be welcome news for the people in this city who battle with cancer every day.
At UKFast, we take community involvement very seriously, so anything we can do to improve the Greater Manchester area is always a top priority. When Maggie's announced they were moving on to our patch, getting stuck in was a no-brainer. One of the great things about the set-up we have here is that we can offer so much more to our customers than just hosting. Whether that's joint marketing ventures or access to our events facilities, there are so many things we are able to provide. And we apply that same attitude to our charity work and community projects.
At the time of writing, I'm sitting at my desk melting through a superman onesie on Superhero Day. We're working with KEY 103 to raise money for Beechwood Cancer Care the only way we know how – by throwing ourselves in (and – of course – dressing up)! Don't believe me? Just take a look some of Friday's UKFast tweets. There you'll find a plethora of Hulks, Batmen, Batwomen and … Mr T (not sure he qualifies as a superhero, but I'm not going to be the one to tell him).
It's how we do things here. We want to get involved with the organisations that make Manchester better. We've already put on some great events with the Christie and are always looking for ways to ramp up our involvement with such a valuable institution. When Maggie's announced its new support centre would be going up on our doorstep, at an institution we already have such a great relationship with, we knew we had to be involved in any way we could.
So far we've been helping Maggie's connect with the business community, holding a meet and greet between the charity and some of Manchester's leading businesspeople in our auditorium. It's awesome to see local businesses coming together to try and make a difference in peoples' lives; especially when it happens under our own roof!
It's small steps at the moment, but expect more Maggie's and Christie news coming out of UKFast in the near future.
To find out more about UKFast's upcoming events and see how you can get involved take a look at our website or give us a call on 0161 215 3857.