You Have the Power
Most kids will at some point dream of becoming a superhero, despite the fact that the superhero lifestyle clearly wreaks havoc on your sleep, your personal life and – ultimately – your survival odds. But the good news is that this Friday you get to fulfil your childhood dreams and become a superhero for a day – and we promise it'll be far less hassle than in the comics! UKFast has teamed up with Key 103 to support their Cash for Kids Superhero campaign, and here's how you can get involved and be a superhero too!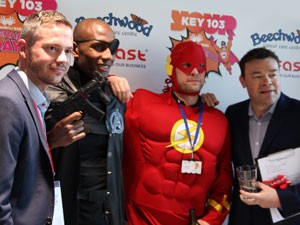 We're proud to be sponsoring Key 103's Cash for Kids Superhero Day to raise money for the Beechwood Cancer Care Centre. The centre helps to look after children who have lost a parent or family member in tragic circumstances, not just from cancer or terminal illness. You can find out more about why we're involved here; be warned, it's less of an emotional rollercoaster and more of an emotional sledgehammer, but – dodgy metaphors aside – it's an incredibly important cause.
There are events planned across Manchester to raise money and awareness for the centre, and we hope to see the whole city turning up to work as superheroes!
We're holding a bake sale, fancy dress day and a Friday filled with special activities to raise money for the campaign, and you can join in too! Tweet your superhero selfie to #keyhero @ukfast @cfkkey103 on the day too and then text KEY to 70070 to donate £5 and be part of Manchester's biggest ever selfie!
Please grab your capes, masks, tights and outside pants and make a donation – whatever you can give. No kid should be denied the support they need after losing a parent because of money, and this week you have the power to change that.
For more information on how to get involved or UKFast events, take a look at our website or give us a call on 0208 045 4945.