Two Weeks at UKFast
Ever wondered what it is like working here at UKFast? Well, one of our newest recruits, Bryn, has taken the time to share his first impressions of joining the team.
Take it away, Bryn…
I first heard of UKFast from a fellow new-starter. She told me that someone had contacted her on LinkedIn looking for people to join the Comms team at his company. I had a bit of a google, saw some pictures of the office, read some glowing customer reviews and decided to give it a shot.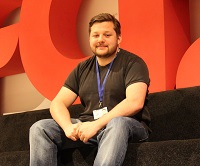 When I sent a very speculative email to Lawrence, I got my first taste of how things get done here. Within minutes I got a reply asking when I was available to talk. I suggested the next day, he suggested right now. Within a few minutes of the conference call I had with Lawrence and Comms Director Liz, I was pretty sure UKFast was where I wanted to be.
When I went in for my interview the following day, I was certain.
After sitting a psychometric exam in the smartest computer testing suite I had ever seen – memories of the charming facility I sat my driving theory test in were not evoked – I was taken on a tour of the office. I'll start on the top floor where I was lead past the pond (we are still inside at this point), through a vortex-like tunnel to the creative floor where, I hoped, my new home would be. We then ducked into the boardroom – a room that looks like a Starfleet shuttle crashed through the roof. Then back through the tunnel, back past the pond, past the fully-stocked bar (yes, bar) to the auditorium. Every space in the building has been tailored to give the people who use them the best experience possible – there aren't many better places to come in to work every day.
But what this doesn't begin to describe is the people who work here. Every person I walk past is smiling. Every time I have a question (I have a lot of questions) no one is too busy to help. This is what UKFast, I think, should be most proud of. Not the one-of-a-kind office or the state-of-the-art data centre (though both of these things are pretty awesome too), but the atmosphere that everyone here has created.
It's evident in everything we do; in the way that the Comms and Marketing teams work together, to the relationship the account managers have with their clients.
As I write this, the desks to my left are being shifted around to make room for another recruit so my time as resident newbie has been short-lived. Already I have seen that this place is constantly evolving, with new faces joining all the time.
I hope that the new new-guy's first two weeks are as good as mine were.