Why Making Every Day Earth Day Benefits You Too
Yesterday was 'Earth Day' – a day where we're meant to eat less meat, turn off more lights and generally try and protect the planet that we seem pretty intent on destroying (for instance, there's a rubbish island the size of Wales floating around out there in the ocean which is probably going to swallow us all). But it doesn't have to be like that. In terms of your business, along with its costs and reputation, there are multiple benefits for going green, and making every day Earth Day!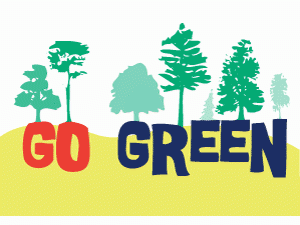 An awareness of how important it is to be environmentally friendly seems to be catching on in major corporations; something which is especially important in the disposable, energy-hungry world of tech. For example, Apple announced yesterday that its stores are now green, and has pledged to clean up its manufacturing process, which is pretty great news!
The mp3 overlord turned its logos green yesterday, and announced that all stores in the UK, Germany, Italy, Spain, Australia and the US are now powered by renewable energy. It's also managed to cut the energy output of its devices down by 59% since 2008. Next stop is sorting out its manufacturing process and suppliers.
Lisa Jackson, VP of Environmental Initiatives, Apple said: "We've made a big impact in our own facilities, and now we're tackling the global supply chain."
Not only does this move mean that our grandchildren will have a little more air to breathe, it makes them look pretty good too.
The same idea applies when choosing a hosting provider. For example, UKFast was the first UK hosting company to achieve PAS2060 Carbon Neutral standard; this means not only can you feel pretty great about doing your bit toward 'World Earth Day x infinity', you can also show off a lovely carbon neutral logo to your clients that tells them that you actually, you know, care.
On top of that, our power-efficient data centres mean lowering operating costs which mean reduced charges for you. If you want the tech details:
Our data centres – MaNOC 5,6 & 7 – achieve a PUE of 1.3 at full design load. This means that when the data centre is fully occupied, for every 1.3MW of power input into the data centre, 1MW is delivered to the IT equipment.
PUE represents how much of the power is used by equipment vs cooling and lighting etc. and it's calculated by total facility power over IT equipment power. The lower the PUE the more efficient the data centre – the UK average is about 1.7.
If you want to find out more or visit one of our data centres, take a look at our website!