The Next Generation (Of Things)
A new report has answered the question of what your teenager is doing upstairs. No, they're not playing Call of Duty, trying to home-brew Gin and listening to Boyz II Men on repeat. They're up there learning about tech. Seriously. Following in National Apprenticeship Week's footsteps, a new report has found that we have an up-and-coming 'Generation of Things'; a group of tech-savvy students that are increasingly educated and connected, and set to take over in a big way.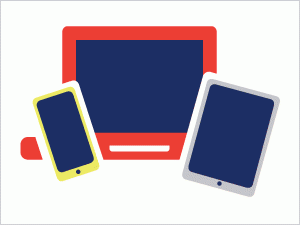 The Logicalis report 'Has the Generation of Things Arrived?' questioned 1,100 13-17 year olds around the country; and it seems to have discovered a connected generation who know about security, privacy and other important aspects of the digital world.
It found that the average UK teenager – who it's dubbed a 'Realtimer' – uses a whopping five devices a day, logging around six hours of digital activity. They know their data rights, and they have high demands, expecting 3D printing (80%), self-health monitoring (69%), delivery drones (42%), and holographic tech (43%) to be in everyday use by 2024. They have strong opinions on these digital rights, agreeing that control over personal data should be "theirs, and theirs alone". Eight out of ten also understand the Right to be Forgotten, with 38% agreeing with it.
Having said that, it seems the only class they're getting this info from is the class of life, as 75% of students said they want more technology in lessons and 34% said improvements are needed in the IT curriculum. Because of this, many Realtimers are looking to YouTube tutorials to learn about tech, making the skills gap – in this case – actually between students and their teachers.
More students are learning to code too, with numbers double last year's at 16%, and another 40% want to. IT is now considered one of the core subjects along with Maths and English; and IT and tech came out as the top career choices.
This is all good, although there are a few things that may still need addressing. 44% of boys, compared to 14% of girls want a career in IT, showing that more still needs to be done to engage school-age girls with tech and IT; and only 7% of students are considering an apprenticeship, which – as we know from National Apprenticeship Week – is an often overlooked route to success.
Chris Gabriel, co-author of the report, said: "The statistics show Realtimers understand the value of their digital skills and plan to use them. Two-thirds say they'll build the technology they want for work themselves.
"Forget how 'millennials' introduced BYOD into the workplace – can enterprises harness a workforce that will create and dictate their own working environments?"
The next step then is realising that this generation has massive potential in the digital age, but needs the support from THIS generation. Gabriel added: "Realtimers aspire to a digital, data-centric, connected future, but they hold the cards to the data ownership and sharing that drives this.
"Whilst this generation can bring significant value to the economy, UK government and business must nurture these digital skills and evolve services alongside them. As we see digital footprints grow smarter, and entering the IoT, organisations must act now to keep pace."
For example, almost 70% of those questioned in the survey expect self-health monitoring and biometrics to be here by 2024 and see health data as amongst the most valuable to share; whether the NHS is ready for this kind of shareable is another question.
The consequences that a motivated, opinionated and, importantly, educated generation could have coming into the workplace and shaking up the enterprise are massive. The next generation is ready; are we?
UKFast is a top 100 Apprenticeship Employer with an award winning programme; for more information on our apprentice programme contact us at apprenticeships@ukfast.co.uk.