The Smart City Of The Future Is Coming
First we had smart phones, then smart tech and the internet of things… now Bristol – home to cider, and one of the friendliest accents south of Newcastle – has announced plans for Bristol is Open; a multi-million pound experiment to create the smart city of the future which is set to be in beta testing by September. Want to know what the city of the future could look like? Read on…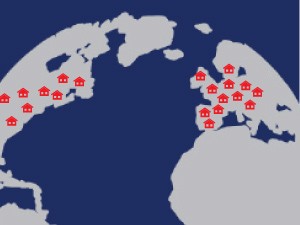 Whilst something as advanced and complex as a smart city might sound like it belongs firmly in the future, work has already begun on a multi-million pound project to turn Bristol into the digital city of the future, but if the future is kind of now.
Bristol's new project 'Bristol is Open' will have a 30 gigabit per second fibre network buzzing along underneath it, and three new fast networks, running from lampost to lampost, in the ground, and connecting wirelessly along the Brunel Mile. What's more, the project says: "A city operating system will dynamically host this machine to machine communication, allowing the development of a wide range of applications."
The city's council, Bristol Uni and Japenese firm NEC  are going to hook the city up with the best in sensor and connectivity tech; and the project has received £5.3m in funding from the government's connected cities plan, with support and resources being provided by the council, uni and commercial partners.
The plan is to use the city to look at how things like big data could solve problems like air pollution and traffic congestion; giving realtime data on anything from traffic jams to entertainment and events. Plus, as the city's also testing driverless cars, it could be a good opportunity to collect data from that. Other parts of the plan will see the planetarium turned into a 4k, 3D data visualisation dome, and the city's lamp posts will be used in a mesh wi-fi network to create a "canopy of connectivity". Sensors and other IoT devices will then be plugged into the network to gather data from across the city.
One of the issues with big data though is making sure that once it's collected, it's stored and understood properly. Bristol Uni has been looking into this, and believes the solution for the city's data lies in their 'city network operating system', which according to the researchers behind it, would allow people to innovate "from down in the ground to up in the cloud." The network will also be "open, agnostic and programmable" as well as future-proof.
It could be coming to a city near you in the not-too-distant future too, as the plans include a built-in emulator that will allow the system to take data from other cities around the world and simulate that data on Bristol's network. This could then lead to the system being exported globally, firmly establishing Bristol as a digital leader.
Peter Wilson, managing director of the project, said it would let people, "work, interact and play with their city," and considering they'll get to test experimental wireless tech like 5G mobile broadband, it's looking like a pretty great place to be right now!
It's important to be constantly innovating and looking at ways that new trends – like the IoT and big data – can benefit the everyday lives of people and improve the places that we live; and it seems like Bristol might be about to do just that.
For more information on the tech behind our solutions take a look at our website or give us a call on 0208 045 4945.