Clearing Up Social Media
Life can be confusing. Do I want gravy or vinegar on my chips at tea? Why do northerners call dinner 'tea'? Will this revealing picture of my buttocks on Facebook get me in a whole mess of trouble? (That last one is fair enough really, as it seemed to work out OK for Kim Kardashian.) With a few sticky situations popping up on social media over the last year or so, several organisations have decided to crack down and clean up. Facebook is the latest to clarify their policies, and clear up any confusion over what is and is not acceptable to post on their site.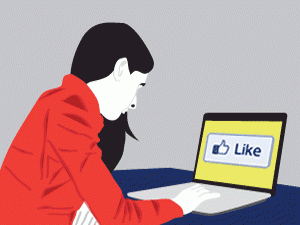 Yesterday Facebook's blog explained that the site now has an improved Community standards page, aimed at clearing up some of the confusion around their usage policies. It said: "[W]hat exactly do we mean by nudity, or what do we mean by hate speech? … We now make clear that not only do we not allow terrorist organisations or their members within the Facebook community, but we also don't permit praise or support for terror groups or their acts or their leaders, which wasn't something that was detailed before."
The standards cover a spectrum of issues, from terrorism and crime to self-harm, drug use, nudity, graphic violence, hate speech and other controversial topics.
In several of the areas, Facebook has cracked down on the issue generally but then provides scenarios where it will be acceptable. For example, naked pics can't be shared but breastfeeding or post-mastectomy scar pictures are fine; sexual content is mostly a no-no unless it's for educational or satirical purposes; and hate speech isn't allowed unless it's been shared by someone with the intention to encourage others to learn from it, and the purpose is clearly stated when they post the content.
As Facebook acknowledges in these updated community standards it's going to be hard to please everyone, especially when it comes to people with very different beliefs or cultural backgrounds.
As part of this, it also discusses government requests for content removal and user data. It explains that sometimes FB blocks content in certain areas to comply with local government laws, although at other times they challenge the request. Overall it's found requests from governments for content to be blocked are growing, but the number of requests for user data has stayed about the same (although interestingly there's been a decline in requests from the US and Germany, which may have something to do with negative publicity following Snowden's revelations).
The blog ends on a strong position for user privacy: "Moving forward, we will continue to scrutinize each government request and push back when we find deficiencies. We will also continue to push governments around the world to reform their surveillance practices in a way that maintains the safety and security of their people while ensuring their rights and freedoms are protected."
It's been a pretty big week for Facebook as the social media site has also bought search engine TheFind to help improve its commerce ads. TheFind will be shut for several weeks, and some of the team will now join Facebook, who said: "Our business is about connecting people with the topics, companies, brands and increasingly products they care about and we look forward to doing that with TheFind on board."
If you think a post violates any of the standards set out in the guidelines then there's a "Report" link on the top right hand corner of the page, creating a community of watchdogs to help keep social media as free from hate as possible.
For more information on UKFast or any of our policies, take a look at our website or give us a call on 0208 045 4945.