Dark Social Rises
At the end of last year, Dark Social was thought to represent more sharing activity than all other channels combined; but what is it, and – after more digging – is it that simple? This type of social networking represents a lucrative, but relatively untapped section of the market, so let's shed some light on it.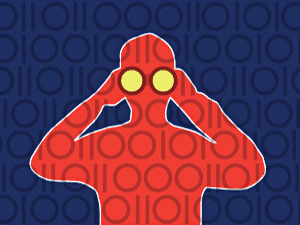 The term 'Dark Social' was coined by Alexis Madrigal at The Atlantic, and refers to the social sharing of content that falls outside of the jurisdiction of Web Analytics programmes; via email, or instant messenger etc. He called it this because you don't get the usual tracker-type referral tags that other sites attach when you share links from them, so you can't see where it's coming from.
So for instance, if you want to send a friend a Buzzfeed listicle called 'Things to help you get through your tragic Friday night home alone drinking gin and watching Game of Thrones reruns' (ahem…), you might want to do it over Facebook chat or WhatsApp, rather than posting it on their wall so everyone can judge you and laugh at you…
Madrigal saw the potential – and the existence – of Dark Social after realising that a lot of The Atlantic's traffic was heading directly to specific article pages, rather than the main site. Obviously readers weren't typing the URLs out in full to look for these pages, so he concluded that these links were coming from untrackable, 'dark' sources.
It seemed – originally at least – that this kind of sharing, which is usually aimed at a family, friend or colleague, is more effective than the one-to-many sharing of light social; which makes sense – quality not quantity. It's arguably a more accurate portrait of a person's (or both persons') interests too, as it comes without all of the showboating that goes on on Facebook.
Early information suggested that 93% of people who share online use dark social channels as part of this sharing, and 32% of people in the study only share on Dark Social too, so light social seemed to be completely missing a market. And it does have some proven results; for example, through the use of Dark Social data, Universal Music Group improved the performance of their programmatic media campaigns by 300%.
However, Madrigal recently wrote a follow-up to his original post saying that he believes that the early info wasn't totally accurate. He now reckons that because the landscape is changing, a lot of this traffic may be coming from the less-countable mobile sites – specifically Facebook's.
This area was a bit of a black hole until recently, because when you click on a link it cuts into a browser, usually minus the tags, and about half of mobile referral traffic simply doesn't have the tracking info attached. However, it will be easier to measure from now on as analytics sites like Chartbeat (the one Madrigal uses) are adjusting accordingly and start to include these stats. It does mean that the information out there may not be as accurate as it was thought, and that mobile traffic is a bigger player than realised.
However, there's still potential in sharing off the radar, and ways that you can capture traffic that may have – until recently – been overshadowed by open social media sharing. Think about how your users can share targeted content privately and easily through your site; for example, having a 'share with a friend' button as well as a 'like' button for email and IM etc. is important. Sites are starting to add a WhatsApp share button, which in some cases has proved more popular than Twitter's. Also bear in mind the sectors where it's most effective: top categories for Dark Social sharing are arts and entertainment, careers, travel, science and education.
In his original article Madrigal concluded that the best way you can get users to share over Dark Social is to write interesting, engaging content rather than clickbait, and of course this is always good practice; however, in his second he admitted that it seemed that the best way was to make it shareable on Facebook. He also concluded that mobile is much more important than was thought previously, so making your site mobile-friendly is even more important in light of this Dark Social revelation.
Don't keep your tech in the dark – for more information on our solutions, take a look at our website or give us a call on 0208 045 4945.