The Most Important Day In February
The month of February brings a very special day – perhaps one of the most important of the whole year. No, not the day of pain that Hallmark dumps on us every year – today is Safer Internet Day! For the last eleven years, Insafe and INHOPE have brought us a day that shines a spotlight on the importance of coming together to make the online world a little safer.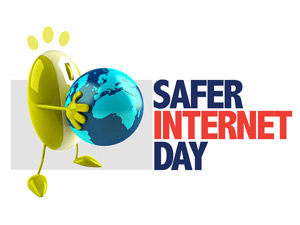 Considering that connected devices are expected to be at 25bn by 2020 (around three times more than the projected human population at that time), and that – from governments to Hollywood – cyber security is now on everyone's agenda, it seems that there is never a better time for Safer Internet Day to shout about its message.
And shout it should. Will Gardner, chief executive of Childnet International and director of the UK Safer Internet Centre, told the Guardian: "We don't want to trivialise the fact that many young people are having a difficult time online. We want to use this Safer Internet Day event to inspire young people to create a kinder internet for themselves, as well as showing parents that internet safety is an important issue to be looking at."
Stats say nearly a third of 11-16 year olds have been targeted with humans being rubbish online, although nearly two thirds say they also feel equipped to deal with it. Another poll of the same age group said that over half have done something "risky" or anti-social online, with two thirds saying they felt under pressure to act that way.
It's important for sites to take a proactive approach against the dangers. Twitter has said it's going to improve its report feature, and when you report someone on Facebook you can now track the progress of the issue, see what's happening and what the outcome was. A revenge porn helpline has also been started for victims, with offenders potentially facing up to two years in prison – there is recognition that as we move increasingly online, so do  our problems.
The Kaspersky security firm urges parents to talk cyber safety to their kids as soon as they're old enough to start connecting online, making it as necessary as road safety talks, and to communicate it to kids in an easy to understand way.
On the other hand, we need to be careful how we approach a solution. For example Be Smart, a new app in the pipeline for parents, will give total transparency to what their kids are doing online, and whilst this may be done with the best of intentions, it raises some privacy issues.
On a granular level, it's important to get informed. You can stream Facebook's event today, and if you're really motivated (and are looking for a new career) you can also get skilled up – about 500,000 to one million cyber security jobs in the US are unfilled.
There are lots of different security solutions available at UKFast, from the standard firewalls, to DDoS protection (which is becoming an increasingly popular method of attack, from cybercrims to hacktivists); and last year we re-launched BASEfund – which is designed to help ensure all businesses have a basic level of security in place. At the end of the day, complacency isn't going to cut it, and we owe it to our grandparents, our children, and ourselves to ensure that we work together to make the internet a safer place to be.
To find out more about our security solutions take a look at our website or give us a call on 0208 045 494