Contactmore
For retailers and consumers alike, ease of payment can make the difference between a sale and rage-quitting the restaurant/shop/bus. Contactless payment has tripled in the last year and the limit is about to increase, but what exactly is it, and is it making our lives easier or are we just making contact with a whole new world of pain?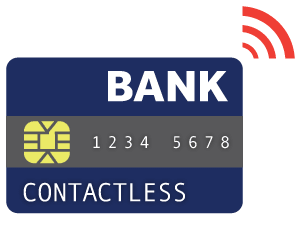 Contactless – or 'tap to pay' – is the latest big payment innovation from the retail world, and could well replace Chip and Pin as the next big thing. Introduced in 2007 with a £10 limit, now many shops and restaurants will have the facilities to use it, and it can easily pay for underground journeys in London, something which is tipped to extend to Manchester soon!
The tech uses Radio Frequency Identification (RFID) to make the payments and speed and ease are the main benefits – especially appealing if, say, you're an Oyster user in London who's been stranded south of the river at 4am after your stupid Oyster card ran out of credit…
From 2013 to 2014 the number of payments made using the tech jumped from £653m to £2.32bn, and figures from Barclays showed 30% of all transactions under £20 were made using contactless cards. On average, people are spending £8.26 per contactless payment. On Friday it was agreed that the contactless limit would go from £20 to £30 this September, indicating that the popularity is set to increase even further.
On the other hand, some people are being issued contactless cards by their banks even if they've specifically said they don't want it. Others – or potentially these same people, in a fit of rage – have been so against it they've drilled holes through their cards to try and disable the functionality; and then at the other end of the spectrum, there are the people who tried to pay contactless before realising that they didn't have a contactless card…
Other concerns include security issues, with the payment thresholds initially kept low because of fears of lost or stolen cards. There was also a ruckus last November with claims that the limits didn't work when withdrawing foreign currency, and that certain mobile tech pressed against your card – through your bag or pocket – could nab your money (although card companies said this wasn't proven in the wild).
Having said that, if you report the loss or theft of your contactless card quickly enough, apparently you won't have to pay for any fraudulent use; and early figures are suggesting that fraud is actually pretty rare. Plus, if a card is used contactless several times without also being used at an ATM, with a chip and pin, or to spend over £40-£50, users will be asked to put in their pin anyway.
The future of contactless could be found in phones, wrist bands (for gigs and festivals) or watches, and in certain situations, undeniably, it could be pretty handy and efficient when you're in a rush.
Finally, if you're a retailer thinking about going contactless, there are a few things you should consider:
Make sure you choose the model which suits your biz best: an add-on reader, an integrated point-of-sale system etc.
Make sure your terminal is fully approved.
Make sure this reader carries appropriate branding for the cards accepted and any overlays on the acceptance zone don't use metallic materials or anything which may affect the card's performance.
High speed authorisation connections are required (e.g. broadband etc.)
Fast-print receipt printers are recommended so that you don't go through this zippy transaction just to be left toe-tapping waiting on the receipt.
What do you think – as a consumer is this a piece of tech that's making your life easier? As a retailer would or do you already have the tech in place?
If you're selling online and want more information on our ecommerce solutions, take a look at our website or give us a call on 0208 045 4945.