Have You Got The UKFast Gene?
We mentioned employee motivation recently, but arguably, the main way to motivate yourself is by doing a job that you enjoy, with people that you don't want to batter to death with the office stationery. We spend about a third of our life in the workplace, which is a lot of time; but it only feels that way when you're not having fun, so it makes sense to find that place that you click with. We're advertising for a few roles at UKFast at the moment, so why not find out if you've got the UKFast gene?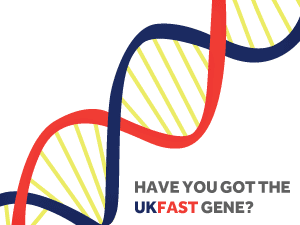 At UKFast we talk about doing things differently, and that begins on a granular level with the people that we employ.
Outside of your role, there are lots of great reasons to come and be part of the team: the awesome office (complete with gym, sauna, ping pong tables and chillout areas), the trips to Snowdon and Switzerland; and pub quizzes, fancy dress days and nights out.
At the moment we've got some great opportunities, from marketing executive, to PHP developer, to data centre engineer; we just need to find people whose DNA fits with ours – but think less crazy mad-scientist and more family-feel! If someone's down, their team will be there for them. If someone does well, everyone celebrates. The Communications team practically threw a 'Welcome to the North' party the first time I tried chips and gravy.
So, if you're bored, miserable, or starting to edge closer to the office stationery, then maybe it's time to come and see if you could be part of the UKFast Family.
Take a look at our careers page to find out where you could fit in!