A Pretty Sweet Deal
A new and even better Pi is now in reach, bringing the next generation of computing dangling at the end of the shoestring. The Pi v2 Model B has now hit the shelves, and at the same price as the previous model. The credit-card sized little computer Raspberry Pi is often described as one of the best things happening in tech right now, and – as the new version is about six times faster than the last model, B+ – it just got even better.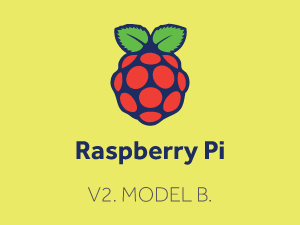 The Raspberry Pi 2 Model B+ has two main things on the previous version: the CPU is now quad core rather than single core, which means it can be programmed to use more of its cores, which gives extra computing power, and the Cortex A7 processor now also runs at 800MHz rather than 700 MHz – but the rest is pretty much unchanged which is great for compatibilities.
Eben Upton, founder of the Raspberry Pi said: "We think it's about six times more powerful for most applications. This means this is really a PC now. You can do most of the things with this that you can do with a PC. You can surf the web, you can watch videos, you can play games like Minecraft. But we also bundle it with the tools that children need in order to learn how to program.
"The great thing is – apart from those two changes – that we've managed to keep everything else the same. So, all of those tutorials that people have developed over the last few years will carry on working with this device. It just kind of broadens out the range of interesting stuff kids can do."
It sounds like there's a big future for the little chip too, as – although it runs a whole bunch of Linux-based systems out-of-the-box already – there are plans to build versions that will soon also take Microsoft's Windows 10. If you're interested in an easy, fun – cheap – entry level computer then the Pi could be a great way to do it; it's great for those that want to learn, and hobbyists.
The massive popularity of the Pi did come with a price though. This morning, eager fans rushed the site, causing the team to have to default to a static page, tweeting: "FOUR thousand of you on the website at the minute – which is why we've had to default to a static page". By lunchtime it was up to five thousand, and was trending worldwide.
As it was a static site (no transactions or anything were happening) a Webcelerator would have been perfect to help with this kind of spike in traffic; caching your website content so that it can handle higher traffic volumes. Sitting in front of your existing hosting solution it handles the load, and reduces the demand on your server. So in a situation like this, serving static content, it's perfect for making sure everyone gets a slice of the Pi.
If you'd like to find out more about our Webcel then take a look at our website or give us a call on 0208 045 4945.