Deloitte Technology Predictions 2015
Last week the fantastic Deloitte hosted their 'Technology, Media and Telecomms' UK predictions 2015 event at UKFast, and we were treated to some insights into the areas of the tech industry that they think will be flourishing and floundering over the next year. So, if you're interested in where the foundations of 2015 might lie, read on…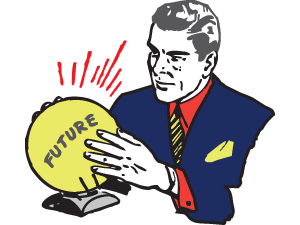 Leading the talk was Deloitte's head of research Paul Lee. There are several areas he focused on; most of which was technology that we already know about – there weren't really any surprise entries as such – but what's interesting is to see which their research predicts will be expanding and adapting for the next year, and which could potentially be left behind.
For example, wearable tech was one of the first areas discussed. It's no secret that wearables haven't taken off as they were predicted to (yet), but Paul said that fitness bands really just quantify a lack of fitness (aka loitering about our wrists to remind us how unfit we are – or that would be the case if I had one at least!). He also pointed out that it was predicted by Deloitte that the wearables market would hit around 4 million last year (a conservative estimate compared to most), whereas actually it was more like only 40,000 units. Interestingly, they've also predicted that another buzzword – 3D printing – may not live up to the hype either; potentially with most of the value lying around creating prototypes, as currently it can take hours to create what they dubbed 'mediocre content'.
On the fence was mobile payments, which they think could have a limited take-off; until now checking bank balances is currently the most common form of mobile money in the UK – partly because making payments by mobile is (or has been) hard.
Broadband is another controversial area. The company predicts that average broadband speeds will continue to rise but that the gap is increasing between speeds across the country; so if you're creating, say, a website, who do you create for – the high or lowest speeds? The speed of broadband already varies massively – even between areas that are right next to each other – and the speed of each individual device itself will further increase this gap. Interestingly, things like modern construction techniques, underfloor heating and even Christmas decorations can also block radio waves.
Neil McArther of Talk Talk – one of the panellists – also discussed broadband, saying that if we go ahead five years there will have been a mass expansion of fibre to homes (Paul disagreed though, saying he thought it would be decades before fibre was totally rolled out but that there would still be improvements in the next few years). Neil explained that Ofcom basically allows telecoms companies to call 'fast copper' connections fibre; and that the UK govt only spends about £1bn on telecoms per year, which is tiny, but it's still better than it has been.  However, as people consume more broadband services (e.g. watching TV over broadband) the industry makes more money, which means more capital to invest into the industry. He concluded that "getting to the heart of what supports all of this is broadband speed".
The clear frontrunner was smartphones though. Paul said: "Smartphones will continue to dominate consumer electronics in terms of revenues and also units"; and Deloitte's expecting the first year upgrade market alone to be 1bn for 2015. Discussing the factors that are driving people to upgrade, they feel performance, functionality, timing, ecosystem, emotions and aesthetics play the biggest parts.
Smartphones are also really the only area where high-end sells best, so even though we may drop cray amounts of money on our phones, they say: "Smartphones are the most personal of the consumer technology devices we own; a high-end device costs about £1 a day (over 2 years)." And considering that most smartphone users will check their phone within an hour of waking up, it turns out we're getting our money's worth! As Andrew Daniels of Degree 53 summarised: "The smartphone is just a phone – it's no longer a luxury item… It's the focal point of everything in terms of day to day communication."
One of the biggest downsides to smartphones though, is battery life (as anyone who's been caught short will know), and although this – according to Paul – will only improve modestly in 2015, the industry is being forced to get creative with solutions to the issue. For example, things like external chargers will hopefully improve, and we might even see things like USB sockets on planes and taxis; these should continue to improve as a longer battery life is likely to remain key to upgrade motivations. Plus, as phones start to get bigger again and connectivity makes doing all of the things easier (with image sharing being high on the list in the coming year apparently) we'll start to use less of our batteries anyway.
Then are the areas that are showing potential. For example, Deloitte's research suggests that click and collect will boom in Europe: "There will be lots of experimentation in the 'click and collect' space happening." Paul also mentioned the internet of things and drones, both of which they think will have bigger benefits on the enterprise end of the scale. Lastly, and a little controversially, print books are "alive and well", with research suggesting that print will represent 80% of all book sales in 2015; and it's not just older generations, millennials are buying books too!
Finally, they were keen on cloud too, with Neil saying: "Cloud storage is only going one way, and that's up." Deloitte closed their speech with the uplifting statement: "This is a year of promise"; so whatever the next year holds, it should be pretty great! So there you have it; what do you think – are there any you strongly agree or disagree with?
There are some opportunities for our partners to come and use the UKFast facilities, so if you're interested in hosting an event of your own with us, get in touch to see if it could benefit both our businesses!