A Web Of Solidarity
The world is still reeling from the Paris shootings, but in the wake of the destruction it has also come together with a message of support: 'Je Suis Charlie'. The internet can be a place where hatred is spread, but it's also a global community that rallies together at times like these; and the domain database search tool WHOIS has found a unique way to get involved.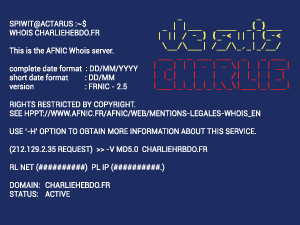 We've talked a bit about WHOIS before in relation to gTLDs and ICANN – it's the tool that's used to search the giant database of domain registrant details. Following the Charlie Hebdo shootings the French internet authorities have turned a small piece of it into a message of support, coming from the heart of the internet itself.
If you now send a query for a French (for example, .fr) website to WHOIS, they display 'JE SUIS CHARLIE' in text art alongside the results. AFNIC, the French non-profit corporation that operates the country's top-level domains, put this into place and it's both a haunting reminder, and another small beacon of solidarity in the online world.
AFNIC posted a comment on Twitter in French and English after the shootings, saying that: "With .fr our commitment to freedom of speech is total"; and for most of us, the internet is nothing if not a place where we can freely express ourselves. The message works for domains ending .fr, .re, .tf, .wf, .pm and .yt.
The circumstances are awful, but it's a reminder that the internet isn't just for trolling Facebook, tumbling down Reddit rabbit holes and ogling celebrity trout pouts; there are times when it reminds us that we are all connected, and that can be a pretty amazing thing.