WHY GOLDILOCKS' RULES APPLY TO DATA CENTRES
When it comes to data centres (the big hiiiighly technical buildings that house your servers aka your data aka your online business) the environment has to be like Goldilocks' porridge: not too hot, not too cold – just right.  If it's not extremely carefully controlled it'll all go to shambles; that's why it's important to make sure your data is stored somewhere that has the equipment needed to protect it.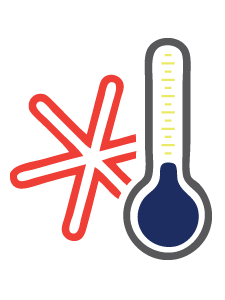 On Monday evening Australia's second largest net provider, iiNet, experienced server failure in their DCs after temperatures in Perth cranked up to a cracking 44.4 degrees Celsius (something most of us can only dream of!) and, unfortunately, some of their air conditioning systems also failed. The company ended up having to turn off servers at the data centre so that the equipment wouldn't overheat, effectively breaking the internet and costing them – and the affected clients – business.
The internet was down for six and a half hours, and although 98% of its customers weren't affected (which iiNet said was due to redundancy), some still had issues reconnecting after this because of the aftermath of the outage. Obviously this is an extreme example, but it does show the importance of having your servers at just the right temperature. Like me, they get cranky in the heat.
Clients vented on social media, feelings captured with the tweet: "That's the most Australian thing I've heard. Too hot for internet." But to be honest even our shoddy, temperamental British weather could affect a DC's servers, so it's important to keep the environment highly monitored and controlled.
The UK's Internet Service Providers' Association (Ispa) told the BBC the UK probably wouldn't experience the same problem: "Data centres and networks are designed with resilience in mind. Whilst we wouldn't expect 44 degrees in the UK, ISPs and data centre operators are very much prepared for the unpredictable British weather".
Either way, it's important to be prepared and to ensure that the environment is right, especially with something as important as a server. At UKFast our data centres are fully owned, so we have complete control over them; and they are built to ensure that all the right components are in place to keep your data as cool as a cucumber.
We have 30,000 sq. ft. of precisely controlled environments including air-cooled DX chillers in N+1 configuration so they're always prepared. Cold aisle containment, the latest digital scroll compressor systems, and fancy configurations of air con and floor planning also help ensure that everything is laid out for maximum resource and minimum energy waste.
Check out our cutting edge cooling systems for yourselves on a tour of our data centres.