The One New Year's Resolution You Should Keep
Get fit, learn a language, stop watching Great British Bake Off repeats until three in the morning – it's five days into the New Year and it's becoming rapidly and terrifyingly apparent that the resolutions we made in last week's tinsel and turkey daze probably won't last. But, unlike other resolutions that you may not stick to, make sure the one that you are keeping is your commitment to the safety of your business. There are lots of ways to do this, and you can tailor these to your priorities and needs, but what they all have in common is that you need to take a proactive approach; so take your safety into your own hands and make 2015 the year that you win at security!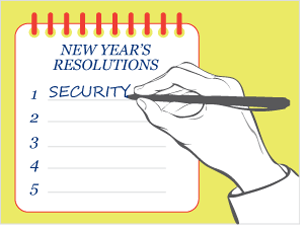 And it can't come a moment too soon. 2014 saw a crazy amount of cyber-crime – both high and low profile – and those are just the ones that made the news. Some of the most recent attacks hitting headlines include hackers stealing $17mn from Russian banks using spear phishing emails, and Sony's slow recovery following several rounds of attacks in the last few months; and, as this bus company found out after being accidentally hacked (the hackers – mortifyingly – thought they were bringing down the British economy), no one is safe!
It's easy to say "Aren't they rubbish at security", but really what we need to be saying is "How can we learn from this?", and then tightening up our own; many businesses (big and small) get hacked every day, and some won't even realise. Unfortunately there is no way of "totally" securing your business, but there are ways of protecting yourself and becoming a harder target (aka becoming a security ninja) but, to achieve this security must be considered as vital to your business's plan as any other aspect (if not more so).
The need for a proactive approach has been realised on a large scale too – Saudi Arabia has hired ethical hackers to try and get rid of 'smut' accounts; and whatever the motivation, it's a good lesson in taking a proactive approach and raising the profile of 'white hat' ethical hackers.
Our CEO Lawrence Jones agrees that 2015 is the year of security: "I think 2015 is going to be about security… Business owners need to start looking at the teams they're employing. If you build websites and store data, you need a cybersecurity expert in your team, it's a priority."
There are lots of different ways of securing your business, but (aside from basics like firewalls), first you need to know where your weaknesses lie – which you can find out through vulnerability scanning – and then how hackers might exploit these, which you can do through penetration testing; something which Lawrence also sings the praises of doing regularly, calling it "one of the most important things now for any online business". He explains: "This is something that all businesses should be doing. It's in the nature of coding that as soon as you've written anything, it could go out of date! As a business, you should get a third party to carry out ethical hacking and penetration testing because you want a truly honest, impartial approach. If you pay someone to hack into your systems, they'll be far more motivated."
At UKFast we understand how important your data is to you (and how disastrous the consequences can be for not keeping it safe), so we've got lots of security solutions available, from firewalls (which UKFast customer solutions are all automatically put behind), to WAFs and DDoS protection. We also carry out pen testing and vulnerability scans, and our security division Secarma are experts in the field, offering enhanced security and the newly re-launched BASEfund, helping ensure that more businesses can afford to be protected.
So, as you look beyond the gruelling runs and equally gruelling all-night GBBO marathons into the year ahead, make sure that the first thing you're securing is the future of your business.
Take a look at our website for more information, or give us a call on 0208 045 4945.