A New Year Surprise!
Normally we would be wishing you all a happy New Year, counting our blessings from the year gone by and nursing a stinging hangover from Christmas, which we still are, but this New Year's Eve we have something extra special to blog about.
Our CEO, entrepreneur, mountain man, squash nut and chess legend, Lawrence Jones has been awarded an MBE in today's New Year's Honours List.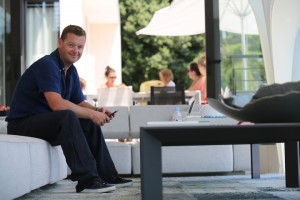 Lawrence is well known for being a little 'different' with his approach to business (think taking every new recruit rafting, trekking and team-building in the Welsh mountains, or flying a whole troop of people out to Las Vegas to thank them for a job well done – twice!). Not to mention his attitude to giving back to the community that helped him grow into the entrepreneur he is (committing £100,000 in 2014 alone to giving back to the community, and taking the five days between Xmas and NYE 2013 to rally the community and rebuild a sensory shed for a boy who had his – a Christmas present from his parents – destroyed on Christmas Eve by arsonists).
And, here at UKFast, we all know Lawrence as the head of the UKFast Family – with a hug when he comes through the door, advice whatever the issue or with a new challenge to empower you to take ownership of. It is this approach that makes UKFast what we are: passionate, strong and always growing.
We are all so delighted for you Lawrence, and we know you say that this is a team effort and one for the whole team, but this is also one for you, yourself. Congratulations!