Merry Christmas From UKFast
Christmas Eve is finally here, and hopefully you're stuffed full of mince pies! And good cheer. But mostly mince pies. Here's a mid-week roundup to see you through the festivities, because sure, why wouldn't you want to read about technology instead of shaking (gently, I'd recommend) all the presents under the tree, convincing your dad to wear the turkey (pre-cooked) like a hat, and – if you're me – still panicking about what to buy people? Merry Christmas!!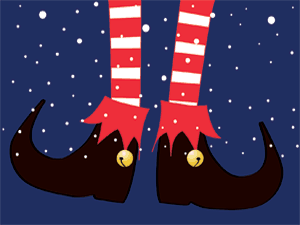 Locating the services you need
GPS may be the new frontier in shopping, as, in the wake of Uber (where you broadcast your location without a care in the world) location-based services will become more popular, using your phone's GPS to deliver services and goods to you instantly (or a fair bit faster, at least). In 2015 Starbucks wants to experiment with bringing your coffee straight to you after you order it online (way to feed my caffeine addiction Starbucks), and Volvo already has a service where you can get deliveries left in the boot of your car.
There are several companies already pioneering location-based services, from laundry delivery to cars that will pick up food from your favourite restaurant. Plus, as more of us have GPS on our mobiles – which also use less of our batteries than it did – and mcommerce continues to rise, this could start to become the norm.
North Korea getting back online
The hoo-ha around Sony and North Korea is stepping up a notch, after NK had an internet outage that lasted nearly 10 hours. Services are getting back up and running, but links to the cyber security scrap with Sony have been mentioned. The country's notoriously strict with its internet usage anyway – much of the population doesn't have (full) access, and for those that do it's mostly to a very careful selection of party sites (and one cooking site apparently). It's gotten so bad that recently embassies in Pyongyang were told they couldn't use WiFi because people were moving into nearby houses to try and piggyback onto it.
Analysts say the blackout could've been due to a cyber attack and one company said it detected denial of service attacks against NK's infrastructure last Saturday. However, it could equally just be technical problems. The plot thickens though, as the country is also thought to have been behind a cyber attack on Sony last week, after outrage surrounding a film it was planning on releasing showing the assassination of the leader, Kim Jong-un; and Washington said it would launch a 'proportional response' in answer.
Russian Facebook blocks event page
Proving how powerful social media can be, Russian Facebook has blocked an event page inviting people to attend a rally for the opposition party. A spokesman for Russia's internet regulator said that the page was blocked on the orders of the general prosecutor. The prosecutor called it an "unsanctioned mass event" and said that resources – including social networks – that were calling for the rally must be blocked.
The page had over 12,000 people signed up when it was blocked, and you can only get to it through a non-Russian IP now, or if you're not a Russian user. The opposition leader criticised the site for giving in to the Kremlin's pressure, and new event pages have been set up, including ones against the censorship. Apparently Facebook is investigating.
Flickr-ing decisions
Flickr has just announced it's not going to sell wall-art prints of its users' art any more, after a bit of a domestic with Creative Commons licencing. They've apologised if they've let anyone down, and acknowledged it's not in the "spirit" of the Creative Commons community. People who've bought the mounted prints will get refunds.
The ruckus was caused after the community were angry at money being made from its sharing ethos, especially as Flickr would have kept the profits from the sales under the 'commercial attribution license, and if you aren't covered by that you would get 51% of the profits. It wasn't an illegal move, just a massively unpopular one.
Merry Christmas!