Xmas Is A Time For (#Uber)Giving
Between 2-8pm today #uberGIVING is offering Uber drivers in London and Manchester a slightly more worthy cargo than drunk partyers and lazy people (yes, I used Uber last night even though I was right next to a metro stop); it's also giving the rest of us the chance to easily send supplies for homeless shelters across the city. Get involved peeps – 'tis the season! :)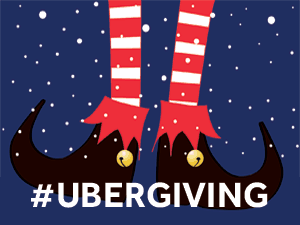 Uber may have been receiving some bad press recently, but they're stepping up for a good cause here. Especially in this awful weather, homeless people across the country will flock to shelters to survive the wintery nights, and these shelters need basic items to keep everyone warm and fed – something which most of us take for granted (although admittedly I'm struggling enough with the cold in my house because our thermostat is a spiteful and mysterious piece of technology).
Today, between 2-8pm, Uber is putting their not insubstantial driverforce to work, shifting supplies for shelters across the two cities. If you live in London or Manchester and want to get involved, you can request an UberGIVING van to come and pick up items from your home or office and they'll take them to homeless charity Coffee 4 Craig.
These are the things they recommend stocking up on, and from 2pm onwards just swipe the slider on your app to UberGIVING and request a van, completely free of charge, to pick them up for you:
Non-perishable food

Juice cartons that do not require refrigeration
Tinned food
Tea and coffee

Clothing, especially mens

Slippers, boxers and socks (new)
Outdoor items e.g. hats, scarves, shoes
Clothing such as T-shirts, trousers, jumpers etc.

Bedding

Blankets
Sheets
Sleeping bags

Toiletries

Dental hygiene products (new)
Soap, shampoo, shower gel etc.

Christmas presents
Find out about Mission Christmas, the charity event we've been getting involved in and – as always – if you have any questions of a tech-related nature give us a call on 0208 045 4945 or take a look at our website.