How To Avoid The Christmas Crash
As anyone with a pair of eyes and a shred of sanity is aware, Black Friday has become 'the day you take your life into your own hands' if you dare enter a shop; so it would have been understandable – smart, even – if you had thought about doing your shopping online last week. But Black Friday then quickly became 'blackout' Friday, showing that even the best of them can get knocked out by heavy traffic (just like several people literally were with discount electronics); and with Christmas just around the corner, this is a great time to see what can be learnt, so that your site doesn't crash for Christmas.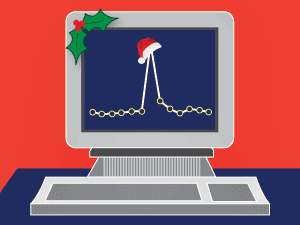 Black Friday offers the opportunity to buy discount electronics and simultaneously get in touch with your inner sociopath. It's also a day when online shopping has never seemed more appealing, or been more popular. For example, John Lewis' deals began at midnight, and between midnight and 6am, traffic to johnlewis.com was up 307% compared with Black Friday last year. Unfortunately for JL, what this meant was that as dawn broke on Black Friday, so did some of its tech – around 7% of its customers couldn't get online.
They weren't the only big name to suffer either. Traffic to the Currys' website was up fivefold. Sounds great but, even though they had a pre-planned queuing system to support shoppers, by midday the queue to their website was over half an hour long. As the day went on, the list of casualties included Tesco, Asos and Game. With unprecedented traffic like this you might expect a bit of a wait, but – with Xmas approaching faster than my stress heart attack and stats showing that consumers only wait seconds (if that) for your page to load before ditching you for a competitor – how can you ensure your site is as well prepared as possible? Here are our top five tips:
As with anything, the number one thing is to prepare. Planning and prepping as early as humanly possible will save you a whole world of pain later. Advice I should follow myself when it comes to my Xmas shopping…
Ensure that you have the infrastructure in place to handle heavy traffic, with intelligent mechanisms for dealing with transactions. This could be dedicated servers or using Cloud technology (like our eCloud); this can increase the spec of your servers or spin up more as and when you need, which all helps deal with spikes in traffic.
It's not really 'one size fits all', so getting tailored advice from one of our ace solutions architects is a great idea. If you get in touch with your account manager (or one of our sales team, if you're not a customer yet), they'll fill you in on where things like a WebCelerator, Load Balancing and Content Delivery Network could fit into your solution and hook you up
Perform stress tests on your site.  Simulating lots of visits to your website beforehand will let you monitor it closely and see whereabouts it might slow or buckle under the load. Ask your account manager for more information on our stress test service!
Check and keep checking. Test to make sure that your site runs as quickly as possible with no performance bottle necks, and – crucially – continue to check after any major changes to ensure it continues to run smoothly.
For more information about any of the technology mentioned take a look at our website; and for more information on how to make sure you are as prepared as possible for the rush, contact your account manager!