RIP Windows Server 2003
Windows server 2003 is reaching end-of-life, and it's leaving the world with a support-shaped hole in its heart. Microsoft has announced that the end date will be July 15th 2015; and whilst that sounds like a lot of time, it's not. So, what do you need to do to ensure your solution doesn't suffer the same fate?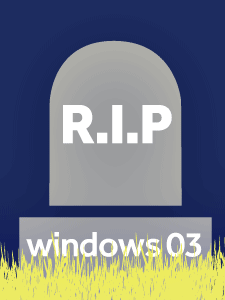 Windows Server 2003 was released nearly 10 years ago and is running applications that were developed for a 32-bit operating system. Considering there are still nearly a million servers worldwide running live applications on the system, that's a lot of people having to do a lot of planning, pronto.
If the security scares of the last year have taught us nothing else, it's that it's important that we stay on top of our tech and take a proactive approach to keeping it in date. So, if you're a Windows 2003 user, how can you ensure you, and your data, stay protected? Basically you need to upgrade your system to a supported version.
**If you're a 2003 client and read nothing else here today, please read this bit**
As of July 15th we won't be supporting 2003 anymore because security updates from Microsoft for this version will end, and we really prefer to have the tools to keep your solution all secure and running. Therefore, we recommend upgrading to 2008 or '12, as you'll continue to get patches to keep all of your things safe. However, as with any move, there's a chance some of your applications may not be compatible, so please make sure you check – and if you're not sure about anything, just ask us.
Call your account manager to discuss your options or if you're at all concerned!