The Internet Of All The Things
The Internet of Things is a buzzword that's become a (smart) window into the future, with research showing that more than 60% of firms have deployed an Internet of Things (IoT) solution; but what potential benefits and pitfalls does it truly have?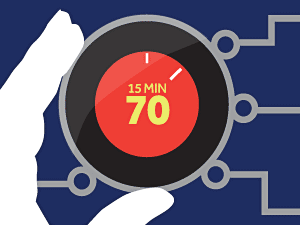 A study done by analyst firm Forrester, of 593 companies across 16 countries, shows that 60% of UK firms have an IoT solution, a number that is rapidly increasing as devices become more affordable, and manufacturers clamour to be the next Wunderkind of the business world. Even more interesting is that it seems the UK is beating the uptake of IoT solutions in both France (42%) and Germany (44%). According to the survey another 30% of UK firms are planning on adding IoT solutions in the next year; and it seems IoT is more than just on trend, it's the trend, as more than 80% of surveyed firms worldwide believe that IoT solutions will be the most strategic initiative for their organisation in a decade. But what actually is it?
The Internet of Things refers to the new generation of tech that can send data over networks to tell you about 'stuff' (which sounds nearly as vague as the 'things' part of IoT, but bear with me). It's the beautiful meeting of sensors and machines, which then transport data; and the idea is that they perform a function to give us information that makes our lives easier.
You've probably heard examples of fridges that tell you when you're low on milk, or 'learning' thermostats that can be remotely controlled and solve all of your temperature needs; but there's also massive industry potential across a whole range of areas, from smart retail outlets that track our shopping habits, to smart highways that monitor traffic flow whilst also keeping cyclists safer; to warehouses that let distributors know when they need to be restocked. We could even save lives using the tech with, for example, smart cement that tells us when a structure is about to collapse, or e-health smart tech that administers insulin to diabetics and a whole heap of other cool things.
There are legit concerns though, like whether increasing adoption will also increase cyber crime, leaving even more potential holes for crims to get into. This is a genuine concern, particularly as many smart devices aren't being created with the input of security companies; and the notorious recent example of a hacked baby monitor shouting abuse at the baby which struck fear into the hearts of many.
Research last August by HP Security looked at a whole range of devices including smart televisions, webcams, home thermostats and even physical security features like door locks, home alarms and garage door openers. They found that most didn't even have the basic elements of security; with 90% collecting personal information, including names and addresses, as well as credit and debit card details. 80% of these only asked for short, weak passwords or none at all, basically leaving the safety of the data doing a Bon Jovi and living on a prayer.
Privacy is also a worry as, in the past year or so, some LG smart TVs were busted feeding back data to the manufacturer; understandably some people weren't happy with even more of their information dangled within the clutches of data carrion. There are also other – more specific – problems to consider, like issues of network uptime: if data is being sent from 'Things' in remote locations (arguably where the tech might be most useful) then a reliable internet connection would be needed to gather accurate info.
So, prepare yourself for the reign of the IoT; but, considering that Gartner estimates that 26.5bn objects will contain smart tech by 2020, we need to make sure that the threats are considered and that whilst the potential is being exploited, our safety is not.
Take a look at our website for more information on the tech behind our solutions, or give us a call on 0208 045 4945.