The Most Secure Messaging Service?
With all the privacy issues kicking about recently, we've started to realise that the cute dog pics/embarrassing selfies/awkward private messages we've been sending our nearest and dearest aren't as private as we once thought (and/or desperately hoped); but those days may be over, as WhatsApp has just announced end-to-end encryption! This means that WhatsApp can't read your messages at all anymore, so even if the government asks it to cough them up, that picture of you and your adorable dog (masterfully combining the selfie and the adorable dog pic) will remain between you and your mam.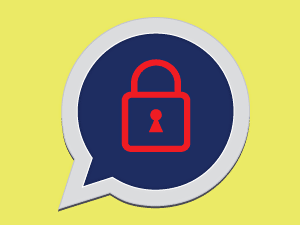 This move will make WhatsApp the most secure large scale messaging service on the block, covering 600 million iOS and Android messagers (well, it's only Android right now but they're working on rolling it out to iOS soon too).
The encryption itself is being provided by Open Whisper Systems via open source messaging app Text Sure, and the project apparently began just after WA was bought by FB earlier this year; which is handy because WhatsApp users had some concerns that the acquisition would mean their data getting tarred with FB's notoriously dubious privacy brush. Luckily WhatsApp CEO and co-founder Jan Koum responded in a blog post saying "respect for your privacy is coded into our DNA"; he's particularly concerned with user privacy after growing up in surveillance-heavy Soviet-era Ukraine.
The good bit (depending on which side of the fence you're on) about end-to-end encryption is that it's more secure than the safeguards used by Facebook Messenger etc., as it means that even WhatsApp itself can't decrypt users' messages if the government or police demand the data; and, as everyone is sick to death of hearing in the 'post-Snowden' landscape, they do love to do that.
How it works – and what makes it extra hard to break – is that the key that unscrambles communications sent over encrypted connections is only stored on the user's phone; whereas in older versions of WhatsApp, those keys were also stored on servers as well as on users' phones, so – if they needed(/wanted) – Facebook or WhatsApp administrators could access users' messages.
Governments are hitting back though, saying that it will slow down rescue operations and all the crime fighting, with an official at the Department of Justice saying at a recent meeting that it could "lead to tragedy. A child would die because police wouldn't be able to scour a suspect's phone". Officials have condemned this kind of tech before too, saying that the only people who really want to use it are criminals. Apple, on the other hand, says this kind of talk is inflammatory and they could get the info elsewhere – like potentially through wireless carriers.
What do you think, is this the be all and end (to end) all of messaging?
To find out more about our solutions take a look at our website or give us a call on 0208 045 4945.