Manchester's Mission This Christmas
Regardless of whether you hate sprouts, hate snow, or hate everybody, December 25th is a time for giving; and with this in mind – and considering that one in three – yep, one in three! – children in Manchester don't receive presents at Christmas – we're proud to be a part of Mission Christmas with Key 103; and you can get involved too!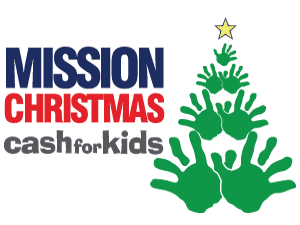 Mission Christmas is Key 103's festive campaign for charity Cash for Kids – an organisation that raises money to help disadvantaged and disabled children across the city. A staggering one in three children in Greater Manchester are in such poverty that they won't get any Christmas presents this year – and through the donation of new, unwrapped toys, Mission Xmas is planning on changing that.
We're an official sponsor but we also want to go the extra mile, so we've set up a grotto downstairs for people to drop off their toys to donate – I have the pine-needle related injuries to prove how awesome it is – and we're volunteering at the warehouse; plus we're spreading the word on our big screen to everyone on one of the main routes into the city.
The idea is that you can donate an unwrapped new toy for a child between the ages of 0 to 18 years. These are all then sent to a huge warehouse in Trafford Park (I imagine Santa has to hire similar distribution space) where they are sorted and sent out into the world (or more specifically, to the charities) in time to spread some festive cheer. The charities then send them out to people who apply for them across Greater Manchester.
Last year the campaign raised £1.4m worth of toys but at UKFast we like a challenge, so it's now our mission to beat that; and so – from the Scrooges and the Grinches, to the saints and the samaritans – we're asking you to join with us, and help give every child in Manchester the Christmas they deserve.
Pop down to UKFast's grotto and drop off your toys today!