How Will Plesk 10 End Of Life Affect Me?
On 31st January 2015, Plesk 10 reaches end of life. We're recommending that anyone running Plesk 10 upgrade to the latest version, Plesk 12. But what's the big deal? Why has Plesk 10 been confined to the crypts of outdated software with Windows 95 and Nokia's snake game? Let's take a look.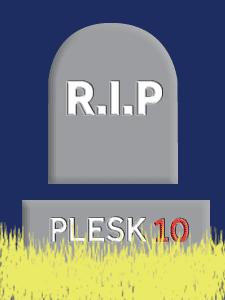 Why has Plesk 10 hit end of life?
With technology changing at an eye-wateringly fast pace, updated versions are released to offer the most secure, stable and reliable edition possible. With this in mind, after this four year period, old versions of Plesk are no longer supported and it is recommended to upgrade to a newer version.
Why upgrade?
New versions of Plesk are not only more secure and stable, they bring whole new feature sets too. Plesk 12 offers protections from outgoing spam, protection from email interception, security and account management improvements, and a mobile-friendly interface, among other updated or new features.
The gap between Plesk 10 and the recommended Plesk 12 also covers the improvements offered by version 11 and 11.5. Parallels offers plenty of information about Plesk 11.5 and 12.
How do I upgrade?
If you're a UKFast client, contact your account manager who can talk you through the options for upgrading. The upgrade process does need a small amount of downtime while the update is running, so please bear this in mind when determining a time to carry out the work.
You can carry out the upgrade yourself, and we've got more information on how to do this.
Parallels have also released the following note on upgrades from earlier versions:
"If you are already running Plesk 11, the recommended path is a regular upgrade, for anyone running Plesk 9 or 10, we recommend upgrade by transfer"
If you have any questions about this process, please get in touch with your UKFast account manager.