Making The Most Of Mobile
Our mobiles are pretty amazing tech. They keep us connected, play music, guide us around (I would literally never get anywhere I was meant to be without mine) and – increasingly – help us shop. And with Christmas already advancing toward us like a speeding freight train (not that I'm already stressed about it or anything), this is something that businesses should be getting on pretty sharpish. Mobile was projected to drive 36% of all ecommerce sales in 2014, and research this week showed that 91% of people will switch to a competitor's website if they receive a poor mobile experience.  So, the big question is: is your mobile experience driving customers toward, or away from, your business?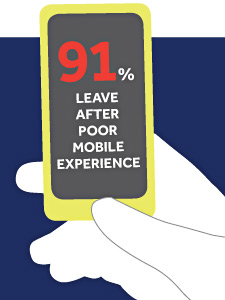 The People's Web Report 2014 sprung a whole load of knowledge on us this week about mobile user experience; for example, in the UK, it's estimated that mobile influenced £15bn of in-store sales in 2012, double the value of goods actually sold over mobile in that year. So, how can businesses use the fact that whilst we're potentially still using our mobiles to help us shop, it's no longer the traditional 'online sales' sense of mcommerce?
The 5th Annual Shopper Experience Study, from Cognizant, found that only 45% of shoppers say that they are satisfied with the mobile shopping experience they encounter, which means that there's a massive opportunity to capitalise and lead the way on this; especially as 51% of shoppers say they will respond to personalised marketing when it provides improved services.
Responsive websites are fairly old hat at this point – it's a bare minimum really. But as our time gets more precious and – if you're anything like me – shop visits become a Thunder Dome of angry people and elusive items, businesses have to do more to ensure that they are seamlessly blending all of their platforms together. And, as your customers are already using smartphone tech, there needs to be smarter ways to use this tech in store.
Some places are already testing the water. Westfield creates customer profiles for their visitors based on 600 interests, 2,000 brand affinities, and 84 demographic fields, by allowing people to like or dislike brands in its mobile app. Macy's in the US has also had a crack, using iBeacon technology to send targeted and relevant offers onto customers' smartphones as soon as they enter the store. This can increase shopper efficiency and basket size, whilst simultaneously allowing more data collection – and Business 101, you need to know your customer before you can sell to them. This is all brought to customers through the app Shopkick; and eventually they want to get to the point where, for example, if you're standing in front of a blender, Shopkick will send you a demo video, more information, and a voucher for the product.
Some have called this creepy though, and a way to tempt you into more impulse buys; and it's important to keep privacy in mind and not become too intrusive/aggressive – 40% in the People's Web Report say they abandon a site if it asks for their location. For retailers, one answer is to focus on sources of information that shoppers don't mind sharing, like loyalty programmes (43%), personal shopping preferences (33%), and events like birthdays and anniversaries (29%). You also don't want to overwhelm your customers to the point where they turn the app off as soon as they enter the store, so getting the balance right is vital.
Whilst all of this is mostly relevant to retail, mobile user experience is something that any business should be looking at; from how easy their mobile site is to use, to how it uses rich media (including in-store), to how it can do fun and interesting campaigns to drive future business – weaving security and privacy to reassure clients along the way. There are some great opportunities appearing in a market that is still emerging, so why not mobilise your business, and turn that speeding freight train of fear (and I can only apologise for the cheesy metaphor here) into a train of possibilities speeding toward the future.
To find out more about the technology behind your solution, take a look at our website or give us a call on 0208 045 4945.