UKFast Apprentices at the House of Commons
It seems that UKFast isn't the only one showing apprentices some love nowadays – from Lord Sugar's infamous show 'The Apprentice', to the Apprenticeships Parliamentary Reception at the House of Commons this week, the secret is out – apprentices are the bright lights of the future! UKFast has an award winning apprenticeship scheme, and because of this, some of our lovely team members were invited to speak at the event last Tuesday, hosted by Andrew Jones MP, in the Terrace Pavilion at the House of Commons! Here's why taking on apprentices is so important – both for your business and the future skills gap – and how you can get involved!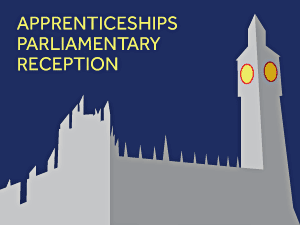 The event was to outline the Government's commitment to apprenticeships and see the direction it will take in the future. UKFast was the only business asked to speak at the event, with our MD Jonathan Bowers, one half of our amazing training team Arlene Bulfin, and former apprentice Ben sharing their passion, knowledge and experiences with the room.
Nick Boles, Minister of State jointly for the Department for Business, Innovation and Skills and the Department for Education, spoke first; describing how David Cameron had set him a challenge to find 2 million apprentices, a target which he's just smashed. Following its success, it's gone up to 5 million; so there's never been a better time to be finding – or becoming – an apprentice! Shockingly, Bowles said, only 10% of businesses have apprentices at the moment, and we need to get that percentage up. He also said that you never hear of businesses taking on apprentices once then not doing it again – it usually goes so well they continue to take them on – and as we know at UKFast, they are amazing additions to your team!
Next, our fantastic MD Jonathan talked about the importance of apprentices and why we love bringing them into the UKFast team; it helps ensure that our business continues to grow in the right direction in future, whilst also helping to fill the skills gap. He also said that it's important to have a team who are passionate about education; and at UKFast we're extremely lucky to have two firecracker former teachers who train us all up, as well as looking after our apprentices!
The lovely Arlene then spoke about how, when we interview apprentices, Jonathan always says that he wants them to have his job in fifteen years. This highlights that it's partly how we, as businesses, and also schools, inspire apprentices; showing young adults that there are more options available than just university, which doesn't suit everyone. Finally, Ben – our fab former apprentice – spoke about his journey through our apprenticeship scheme to becoming a junior network engineer at UKFast.
Ultimately, we now want to encourage other businesses to take on apprentices; and we are proud to be official Ambassadors for the scheme. We want to help support our clients and other businesses in Manchester set up their own schemes, and our goal is to sign up 100 apprentices across Manchester – no small task, but we know we can do it!
A bit about UKFast's Apprenticeship Programme
•             We're double award winning and in the top 100 in the UK.
•             Our apprenticeship programme is run by two outstanding former teachers (yeah they're both pretty cool) with 16 years' experience between them.
•             We've built our own 'UKFast bespoke curriculum' to meet our business and industry needs.
•             We work with over 20 school partners to recruit the best talent across Greater Manchester. We primarily work with 5 Gold Partners to ensure the apprentices have the right culture and attitude for our business.
•             Our apprentices are paid double the minimum wage.
•             Our apprentices go through an intense training programme that consists of a blend of tech and soft skills. We build and create hybrid / Winux engineers that are multi-skilled.
•             We empower and fast track our apprentices into job roles within the first 6 months.
•             A number of our apprentices are now fully fledged engineers working in their own teams and maintaining key parts of our business infrastructure.
•             Apprentices now write and deliver the training programme for the new apprentices.
•             We have run over 60 events with schools, colleges and universities around the country and we are helping to write the computer science curriculum with our key school partners. We're striving to fill the skills gap and up skill the talent of the future.
•             As a registered PearsonVue test centre and LPI ATP we will be providing training and exams to schools and colleges in our state of the art labs.
We've got a UKFast Apprenticeship event on the horizon for Dec/Jan – more info will be coming soon, but the general idea is how can we help other employers with apprenticeships and training by offering our facilities and knowledge to support them. It's going to be pretty awesome, so watch this space!
For more information on our apprenticeship scheme contact apprenticeships@ukfast.co.uk.