Say Goodbye To Cyber Security Month And Hello To The Rest Of Your Life
Tomorrow is the last day of cyber security month, and the first day of good cyber security practices fo' life. We've had a fair few big breaches hit the headlines recently, and many more that are sure to have gone under the radar but – as the month draws to an end – the only scary thing on the horizon should be the extremely terrifying UKFast Halloween video that's coming your way tomorrow!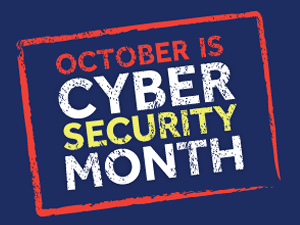 This article has had the ace idea that instead of being a 'department of no' and simply reacting to every trend that comes out of the digital world with securityness doom and gloom (like cloud or BYOD), maybe security groups could become a proactive force for good that want to embrace new trends and see how they can deploy them with minimal risk.
Attorney General Patrick Morrisey loves a bit of cyber security month too, reminding consumers in West Virginia that simple security measures will help protect them and their devices.
He said: "October is cyber security month, which is an easy way to remind people, whether they are senior citizens, business owners, parents, or teens, to take precautions to ensure their personal information remains private.
"Data breaches at banks, health care providers and major retailers in recent months should serve as a wake-up call for consumers about how easy it is to have their information compromised. Everyone needs to take steps to ensure private information remains private, identities are protected, and our personal electronic devices do not get hacked."
There are a few things you can do on a personal and business level too. Good security practice doesn't have to be stressful, and lots of it is just common sense; like not opening dodgy links in unsolicited emails (remember that your bank will never ask you to send out personal information), looking for 'https' in the browser bar when shopping online, and changing passwords regularly (we've got a whole bunch of password tips just for you!).
Don't forget about your other devices (anything you connect to the internet on really), keep updates installed and make sure you have someone who's a bit security savvy in your business and that they communicate a strategy to the rest of the employees; anyone, no matter how well intentioned, can cause a security breach, whether through BYOD negligence, leaving printed docs around, or even intentionally, when leaving a business. Take a proactive approach. Sign up to security bulletins (you can sign up to our monthly security newsletter, packed with tips and the latest news, in MyUKFast… just sayin') and our security arm Secarma do pen testing, and offer BASEfund, an initiative that helps hook businesses up with protection.
So, there may have been a few cyber scares recently, but what's important to take from this is how to stop them happening again, and having the proper protocols in place to react, recover and then stay one step ahead in future. Then, the more we find, the more secure we become – and the more we look the more we'll find. Education is key, as many people have basic – or no – security, but by building security seamlessly into all solutions in future, we have a cracking opportunity to create a safer world online!
Take a look at our security solutions, or give us a call to find out more on 0208 045 4945.