KEEPING WHAT'S IMPORTANT ON YOUR RADAR
When it comes to the happiness of friends and family, it's hard not to worry; and I worry all the time. My sisters get pretty sick of me constantly texting them, "Are you OK/still alive??" (although this is often just so I know I'll get the dress/cd/money I've lent them – knowingly or otherwise – back at some point). So if there's anything that helps make sure they're broadly OK without annoying them (apparently it is possible to communicate an eye roll over text), then that'd be pretty great. The charity Samaritans has created a twitter application that lets you know if it thinks your contacts might be at risk of suicide, and it could be a step in the right direction for social media positivity too.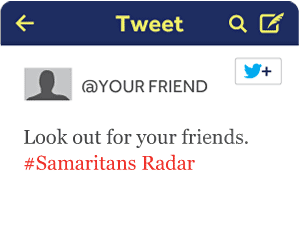 Samaritans Radar is a free web app that monitors tweets and lets you know if it thinks your friends might be at risk of suicide. It does this by using a special algorithm that monitors tweets for keywords and then alerts you if anything's flagged up, and offers tips on how to deal with the situation.
It came up with the service because there seems to be a link between rate of tweets per user determined to be at risk of suicide and actual suicide rates; and is particularly focused on the 15-35 age group, where social media is a primary touchstone for communication, having grown up with it in our houses. The app looks for obvious phrases like "I want to die" and "need someone to talk to", along with some more subtle like "go to sleep and never wake up", or talking about feeling hopeless or really tired. It admits it's still a young service, and doesn't understand sarcasm or jokes yet, but it does have some smart tech that will help it learn how to tell which messages are more relevant.
The tips you might receive include things like gently asking how the friend  is doing, or suggesting a meet up or a phone call; they won't get involved unless you ask them to though.
Because of Twitter's less personal nature people might be more likely to tweet revealing things, and the service might help turn the tide on social media's part in self-harm and suicide. Previous studies have indicated that social media can be used to encourage people to hurt themselves (#cutforbieber anyone?), but other research earlier this year suggested that social media sites could do more to support young people.
Privacy concerns have been raised, but Joe Ferns, executive director of policy, research and development at Samaritans, told the BBC it's not designed to be snoopy: "Radar is only picking up tweets that are public, giving you an opportunity to see tweets that you would have seen anyway.
"But imagine that a friend had posted something in the early hours of the morning, you're on the way to work or college and your Twitter feed is full of messages that are arguably less important – Samaritans Radar gives you the opportunity to see that tweet again and have it highlighted to you.
"It's not looking over your shoulder, it's not looking anything that's private, it's just giving you the opportunity to see something and act on it."
The app only takes your email address and twitter handle, and has said it can't monitor tweets of private accounts, and that if you delete your account it'll get rid of all your data within ten minutes.
It says: "We do use "cloud-based" applications to process some types of personal data and data may be stored outside of the European Economic Area. Where this happens we ask our suppliers to provide evidence that they have the appropriate measures in place to make sure that your data is secure." We've spoken before about how important it is to know where your data is hosted, as it can apply to different laws if it's outside your country – for example, sites like Facebook, which are hosted in the US, are subject to the American NSA, rather than the British GCHQ, data laws.
They're looking to extend it to other social networks in the future, though possibly it's most useful on Twitter because of how fast things move. So, if you want your Twitter to be used for more than keeping on top of the latest news, or stalking D-list celebs, then give it a go; it'll be interesting to see whether this app can turn us all into Samaritans too.
If you want to talk about your solution, give us a call on 0800 045 4945 or contact your account manager.