Smart Highways Illuminating Cycle Safety
I've never been good at cycling – I've got almost no balance, terrible awareness, and the reflexes of a teaspoon. Apparently though, lots of people who aren't blessed with terrible motor skills love to cycle; but it can be pretty dangerous, especially in the dark. Well, we've heard of smart tech, but now we've got the potential for smart highways, which could be coming soon to a road near you!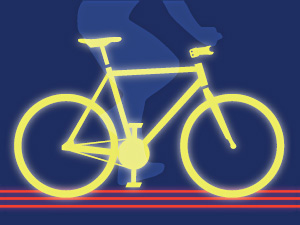 In the Netherlands plans for 'smart highways' with Tron-esque glow in the dark cycle lanes are being designed by Dutch engineering company Heijmans and Daan Roosegaarde, an artist and designer who has big visions for tech. Route 66 of the Future uses special green paint that gets its glowing powers from the sun, and is meant to be clearer than the cat's eyes reflective disks used currently. They're in testing to try and bring the tech to the UK soon, and it's one of many ways that innovation can make the roads safer.
Roosegaarde said: "The glowing lines are a little … Daft Punk look-alike but they are to do with safety." Association with the cool band aside, they use much less energy too, which is awesome. This is tech thinking outside the box, as it'll be useful even in countries that aren't constantly connected to the energy grid.
As for the rest of the smart highway plans, the group wants to embed roads with tech that'll let you know when the road is slippery: when the temperature dips below freezing and the roads get icey, the paint would activate and bright cartoon snowflakes would cover the road. Even more techie is the team's plan for an Induction Priority Lane, designed to charge the batteries of electric cars as they drive, using induction coils under the road surface (something that's rumoured to already be under test in South Korea). Most of these are still in the concept phase, but it's looking hopeful after it received a Dutch Design Award.
Roosegaarde said his team has about twenty ideas they want to roll out worldwide over a five year period: "We think half of the ideas will influence roads in the future to make them energy neutral and functional." They've got other kooky plans, including building the largest vacuum cleaner in the world, which would create a smog-free park in Beijing. Talking about the concept overall, he said: "It is not just an artwork, we want to update reality."
In terms of cost, "it would be more expensive than a current road, but less expensive than building a new planet Earth"; and if it's helping to save lives, that's pretty smart too!
To find out more about the tech that's taking your business into the future, take a look at our website or give us a call on 0208 045 4945.