FRIDAYS AT UKFAST – 24th Oct
Don't want to excite you or anything but IT'S FRIDAY! In between celebrating, why not catch up on all the tech things, starting with stronger trolling laws, the future of wearables, a domain name breakdown, and the new tech hub in the north. Then snuggle on down into your onesies with the best of the rest:
Ebola email scam
As if Ebola itself wasn't worrying enough, now you can even catch a virus from it online! There's an email going round that's pretending to be from the World Health Organisation, offering tips and advice on preventing the disease, but the links actually install malware that gives hackers remote access to your computer. It's called a DarkComet Remote Access Trojan and, according to the dudes that found it, can run on computers and not be detected by malware. Keep a beady eye on your online safety, don't click on dodgy-looking links, and maybe find somewhere else to get your Ebola facts from!
Over half of Brits have been victims
A survey of 2,000 people done by the cabinet office has found that a crazy 51% of Brits have been victims of cyber crime (and that's probably just the ones that realise!), and that half of those victims feel vulnerable and victimised. Although cyber crime is now seen to be as bad as 'real' world crime by about half the people, lots of them admitted they still don't have basic protection, like pins for their devices etc. Considering how much information someone hacking into our devices could get about us, we really need to step up the protection; protect, update, and be wary online!
New Google inbox app
Google has potentially cracked the problem of email overload, with an app to run alongside its Gmail service. It's invite-only, and allows you to organise emails in bundles (like bank statements, online purchases etc.) to make life a little easier. It'll also show highlights of emails, thumbnails of photo attachments, and will have a snooze function, amongst other things. In a world where you often feel like you spend all day answering emails, this could potentially be a gamechanger!
Sharing is caring
Gone are the days of looking wistfully at your sibling's fancy Spotify premium account as you sit there crying onto your basic one (mine will find anything to tease me about!), as it's finally rolling out a sharing account for its premium service. Spotify Family is a new subscription package coming soon, with prices confirmed in the US depending on how many users will share an account. Until now, if more than one person tried to use the same account they'd kick each other off when streaming at the same time. The family plan only works out about another five dollars a month in the US, but prices for the UK version haven't been confirmed yet.
Tech is amazing in so many ways, but this great/kinda terrifying photography project shows that we need to get off our phones, people!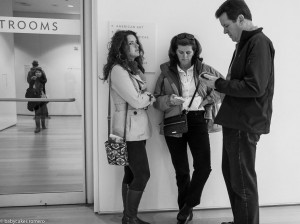 (Bonus bonus content) Paul and Barry getting down with the kidz: 
What have you seen this week that's worth sharing?
Have a great weekend!