YOU ARE WHAT YOU WEAR – IS THERE A FUTURE IN WEARABLE TECH?
Not sure if you're a-wear, but wearable tech has been tipped to be the next big thing… a claim which has been made every year for the last three years or so. At the Mobile Monday event last week, industry experts gathered to talk wearables, whether they're delivering, and if they have a future.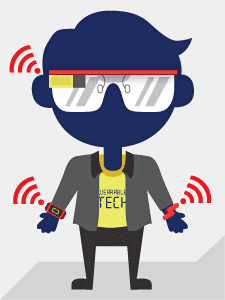 Mobile Monday Manchester (MoMoMcr) is a 'community for discussion, events and information', part of the Mobile Monday networking groups that are springing up like whack-a-moles all over the country. Except instead of smashing moles, they're smashing the tech talk.
The theme for last week's meet up was the future of wearable tech, and UKFast was the headline sponsor. In case 'wearable tech' sounds like you're trying to climb inside a toaster, it's tech that embeds sensors and electronics into clothing and accessories – smartwatches are probs one of the most popular examples, along with Google Glasses and fitness trackers.
The evening was a kind of techie 'show and tell' by Google, TransaXiom, Blue Fingers and Intoware, followed by a panel discussion and audience Q&A with some of the leading thinkers in the wearable sector:
Martin Bryant: Editor in Chief, The Next Web
Michelle Hua, Founder, Made With Glove
Piers Ridyard, CEO of Nifty
Imran Younis, freelance UX Consultant
Dan Sodegren, Mobile Marketing Expert
The debate kicked off with Martin, who said that whilst every year is meant to be the 'year of wearables', we're not actually ready for it to be. He concluded that wearable tech should "fit around your life instead of you having to adapt to it" and because at the moment it's the other way round – possibly smartwatches aside –  the 'year of the wearables' is unlikely to be added to the Chinese calendar anytime soon.
Next up was Piers Ridyard, the CEO of Nifty, who had a couple of suggestions about how wearable tech could actually integrate itself into our daily lifestyle: if, for example, humidity sensors in gymwear sensed when you had an elevated heart rate or got warm they could instruct your fridge to have a cold drink ready for you when you get home. But he admits that we need the systems and utility to match the tech before this would be possible.
Michelle Hua, founder and director of Made with Glove Ltd – a UK wearable tech company designing fashionable heated gloves for women – had an interesting point: the common feature of these wearable tech products is that they are aimed at men. She predicted that tapping into the female market (a market that already uses accessories as part of their regular purchasing), could mean that wearables will be worth £70 billion in 10 years' time if it went well. Through this, it could be the fashion industry that turns that frown upside down and makes wearables more attractive, desirable and eventually mainstream.
There were lots of other interesting points made too, including when Imran Younis, a UX developer specialising in Android, warned that if wearable apps are to succeed they can't just be normal apps shrunk down to fit on your wrist; they have to have their own unique functionalities.
The healthcare sector also came up as having big potential – surgeons could record surgeries with wearable cameras, trackers could log patients' vitals and then deliver them to their doctors, and vibrations from wearable sensors could be used to help the visually impaired. There have already been instances when doctors wearing Google Glass have been able to access patient records more quickly in emergency situations, which has actually saved lives.
The main point of agreement across the board was that for wearables to succeed you need a good mix of both utility and fashion, something they've really been lacking until now (although some companies are starting to zazz it up a bit). So, whilst it doesn't seem that the era of wearables is here quite yet, maybe it's time to start clearing some space in our jewellery boxes ladies!
If you're interested in meeting up with other great minds of the industry, and getting involved in some amazing tech and business events with UKFast, we've got a calendar of awesomeness coming up.