Con"troll"ing Online Bullying
When we were younger, trolls lurked under bridges in books and stories; unfortunately though we didn't leave them behind, as modern day trolls – lurking under the bridges of the internet – are very real, and actually kinda terrifying. As the world moves online, it's time to take trolling seriously, starting with a new law that quadruples the prison time trolls could face, and offering better support to the victims.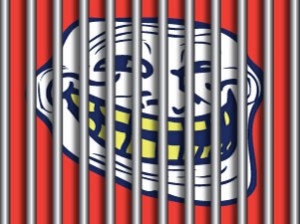 "Troll" – funny word, not always funny in reality. Trolling has become really prolific over the last few years, and is basically winding people up or abusing targets online; often it's aimed at celebrities, or tribute pages for people who've died. Some say it's just freedom of speech and a bit of fun – and sometimes it is – but it can also be threatening, abusive or just plain upsetting. If it's serious then it's a criminal offence, and people have been jailed for it, but not for very long (6 months max) – until now.
Justice Secretary Chris Grayling has said they're extending the sentence to two years for this kind of cyberbullying, and we need to take it seriously; especially as cyberbullying can – and has – lead to people killing themselves. Images shared on Twitter, Facebook and other social media sites, as well as ones sent by text, will be coming under the beady eye of the law.
They're cracking down on revenge porn too; which is when people post pictures (usually sexy/naked ones) of exes without their consent. Victims of revenge porn have – until now – found it quite hard to get the images removed, especially as sites like Facebook are often hosted outside the UK and therefore not obliged to hand over information etc. They can be pretty distressing, but out of 149 documented cases across England and Wales, only six had police action taken; others have had to resort to legal loopholes, like asserting copyright (if you take a selfie, then technically the copyright for that image is for you).
Partly because of the anonymity the web offers, trolling is done by many people who should know better (read: everyone), and things can escalate quickly (as anyone who's read the Daily Mail's comments section knows). Internet experts say it's best not to "feed the trolls", and to just ignore them, although comedian Dom Joly has gone vigilante, calling himself the "troll slayer" and trying to out trolls to get them shamed online.
The law says:
The Communications Act 2003 governs the internet, email, mobile phone calls and text messaging
Under section 127 of the act it is an offence to send messages that are "grossly offensive or of an indecent, obscene or menacing character"
The offence occurs whether those targeted actually receive the message or not
But some feel the malicious communications act (which trolling would technically fall under) is outdated and needs to reflect the changing way we communicate.
There's also a call for better internet moderation, as banning online anonymity – one of the other options to try and stop it – would tread on the toes of freedom of speech, and there are times where anonymity is a good thing, like for journalistic tips. Labour MP Stella Creasy says police and prosecutors need better training on stalking and harassment to deal with online abuse: "We need the police and the CPS to have better training in what stalking is and what harassment is to understand that if somebody is sending messages and escalating their fixation on somebody… to be able to assess the risk the person faces".
In the meantime, setting your privacy settings high on your social media sites is a basic way of protecting yourself. If you're being trolled and feel like it's libellous or threatening you can report it to the police; there have actually been instances of people trolling from work accounts, victims reporting abuse to their company and the troll being fired.
More generally, if you're being cyberbullied:
I'm being cyber bullied, what can I do?
Gather and document as much evidence as you can.
Seek help and support from relevant organisations, for example the Bullying UK helpline on 0808 800 2222, or via their email support service on the Family Lives website.
If you are being bullied online (or offline) by someone at work, report the problem to your HR department or line manager, or if at school or college report it to your teacher or tutor.
Most social networking sites have a means of reporting such issues, for example Facebook, click here. Twitter has also introduced an in-Tweet 'Report Abuse' button across all app platforms and its website.
If you have any questions about keeping your solution safe from the things that lurk in the internet, check out our website or give us a call on 0208 045 4945.