Know Fraud, No Fraud
American Hustle (and its awesome forefather, Brit TV series Hustle) may make con artists look glamorous and cool, but (not to sound like an awkward anti-drugs campaign), there's nothing cool about fraud kids. Unfortunately though, it is easy to fall into the trap, especially if you don't know what you're looking for; which is why the police and high street banks have come together with a list of eight things to be aware of that will help protect your dolla.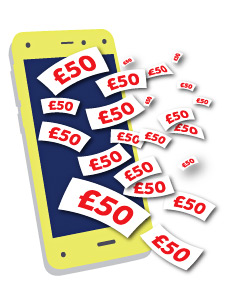 The trouble is if you're not aware that, say, your bank would never email you with a link, it's easy to assume it's legit – especially as scams get more and more convincing. It's not just emails either – which are easy enough to delete or a bit more obvious if they're fake (sometimes the email address looks a bit weird or the link is clearly like www.we'regonnastealyourmoney.com); some fraudsters will call and try and get you to give sensitive info over the phone, or even turn up at your house pretending to be a courier service saying they're there to collect your bank card.
The campaign 'Know Fraud' is bringing together police and high street banks to try and raise awareness with the top things to look for. They've got links on the site to specific types of fraud, and there's a leaflet that goes more in depth.
Eight things a bank will never do:
Ask for your full PIN number or any online banking passwords over the phone or via email
Send someone to your home to collect cash, bank cards or anything else
Ask you to email or text personal or banking information
Send an email with a link to a page which asks you to enter your online banking login details
Ask you to authorise the transfer of funds to a new account or hand over cash
Call to advise you to buy diamonds, land or other commodities
Ask you to carry out a test transaction online
Provide banking services through any mobile apps other than the bank's official apps
The website also has advice if you think you might have been a victim of fraud:
Stop sending money. Tell your bank immediately using the number on their website or other communications.
Report the fraud to the police through Action Fraud either via the website www.actionfraud.police.uk or by calling 0300 123 2040 (textphone 0300 123 2050).
If you are the victim of 'share' investment fraud, you should also report it to the Financial Conduct Authority consumer helpline on 0800 111 6768 (freephone).
Beware of other scams. You are likely to be targeted again, particularly by firms offering to recover funds you have lost.
 If you've got any questions about the security of your solution with UKFast, take a look at our website or contact your account manager.