Brits Want To Be Forgotten
It seems us Brits might have a few things in our cyber closets that we'd rather stay there, as latest figures show that we're jumping onto the 'Right to be Forgotten' (and off the internet's search) bandwagon in a big way. One in ten requests for the Right to be Forgotten ruling have come from Britons, placing us third in the EU to use the service; but it seems that the law itself is still sparking some controversy.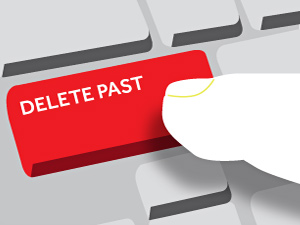 The Right to be Forgotten law says that if someone requests search results linking to information about themselves be taken off Google, then the online service providers have to agree, unless they have a legit reason to do otherwise; the official line is that they'll only continue to show results when there's a 'public interest' to do so. So far it only concerns searches in the EU, and original source material will still be live and kicking; so whilst the webpage itself will still be out there, links to the webpages will be taken down – basically so it's harder to find.
So, for example, they've said no to a request from a 'media professional' asking to take down links to "embarrassing content he posted to the internet" (sounds intriguing); but they usually seem to say yes if, for example, the person requesting the removal was a victim of a crime. These are just a couple of examples of situations where the request might be approved or denied though; there are loads out there, and obviously each case is weighed individually – sometimes on a link by link basis – so if someone requests a bunch of links to be removed, some but not all might be taken down.
On the other hand there have been lots of concerns raised on both sides, including that of censorship; Google chairman Eric Schmidt has called it "a collision between the right to forget and the right to know". Also, as Google restored a bunch of the links that they'd removed, ironically it's probably been giving those sites more publicity than before.
So far Google has received 146,357 requests and removed 498,737 URLs; Facebook alone has had 3,353 links removed so far across Europe and Youtube's hit-count is at 2,392 URLs deleted. Percentage-wise, 41.8% of requested URLs get removed, compared to 58.2% which are not. Across Britain they've said the 'total of requests that individuals with relationships to this country have requested Google remove is 63, 616 URLs', with the number actually removed is 18,486. Across Europe the search engine receives on average 1,000 requests a day.
Britain is now the third in the race to erase itself online in this way, after Germany and France; and 500m+ people living across 32 countries have the option of requesting the Right to be Forgotten.
If you have any questions about your data with us, take a look at our website or contact your account manager.