The Herod Clause: What Would You Give Up For Free Wi-Fi?
The hunt for free Wi-Fi drives people to some pretty desperate things; like cultivating a fairly serious caffeine habit in Starbucks, spending time in Macdonald's whilst sober, and giving up their firstborn children. The usual. A recent study on Wi-Fi hotspots found that, despite terms and conditions demanding connectors' firstborn children, users were still agreeing in order to get free Wi-Fi. To be fair, free Wi-Fi with a steady connection is the unicorn of the online world; but it just shows that we don't actually read the fine-print. More worryingly (depending on how you feel about your firstborn), they also found that when you're using Wi-Fi on the go, it's not just your hypothetical kids that are at risk.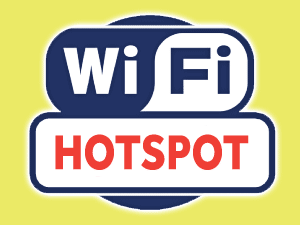 A recent study by security company F-Secure offered free Wi-Fi in Canary Wharf and Westminster, in return for the extremely reasonable price of your first child; as part of their 'Herod Clause' (you know the guy, ancient Rome, not so popular with parents). They wanted to show that not only do people not read the small-print, they aren't as careful with the security of their mobile devices as much as they are when on their computers.
In the first half an hour of setting up the hotspot (done with a cheap mobile Wi-Fi device) about 250 people had connected – some probably doing it automatically – with six actually agreeing to "render up their eldest child for the duration of eternity". The report itself was called 'Tainted Love: How our wi-fi betrays us'; and through the connections, the company had access to the contents of users' email, and could see where else they'd connected recently, as well as their passwords.
F-Secure's security advisor, Sean Sullivan, said: "Free, open Wi-Fi is unsecure. It wasn't designed for the 21st Century and it's leaking information about us to people that we don't have any knowledge of and they're collecting data on us that we're not consenting to."
It's true that hotspots can bring about a whole world of pain, so it's great that the report flags up some issues that we may not be thinking about when we walk around, merrily leaving ourselves open to attack. For example, some hackers sneak into current Wi-Fi hotspots, whereas others create their own to fool people. Sometimes they piggyback onto an existing connection and divert traffic by broadcasting their own, stronger signal; sometimes they might create an account with a similar name to a real account and often, as it's not password protected, people will try to connect to it first.
Even if it's not intentionally set up to hack you, by using unsecure Wi-Fi you could still be inadvertently spilling your sensitive info into the world, and even some legit Wi-Fi providers will get you to agree to them selling your data in their T&Cs.
By leaving your Wi-Fi switched on as you go about your daily business you're broadcasting enough information for criminals to be able to identify you. Be careful when you're connecting out and about, read the terms and conditions – I know, I know, it's boring, but it could save you even more hassle later; and treat your data as carefully as you would your firstborn, before you find you've inadvertently signed it away to a stranger.
For more information on our security solutions take a look at our website, or give us a call on 0208 045 4945.