Too Much .Choice?
When I was a kid we used to get BBC1, ITV and C4, the latter of which was so fuzzy it made the characters in Friends look like human snowstorms – so I only used to watch things I really loved. Now I have Sky and Netflix and loads of choice – which, as an extremely indecisive person, is my nightmare; so of course, I never watch anything. And it seems the same thing is happening with the new gTLDs. This week is being called one of the worst for new gTLD sales, and I'm beginning to think that too much choice is the culprit.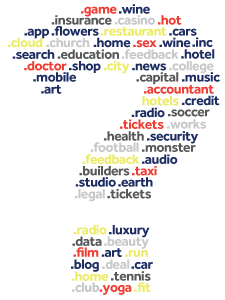 When ICANN started the new gTLD rollout everyone was super excited to get their mitts on a shiny new generic top level domain (gTLD), but now time is moving on and it seems that sales well, aren't. One possibility is that the new extensions aren't actually needed, but as they really can be beneficial for businesses, maybe potential domain name owners are just getting a little overwhelmed.
Between 2013 and 2015 ICANN are releasing more gTLDs than you can shake a stick at; hundreds, maybe thousands – blimmin' loads. Some have done really well so far, and to be fair, we've had a total of nearly half a million domain name registrations with the new gTLDs in the first quarter of 2014; but sales are still relatively low. As some of them are variations of each other (.photo/.photography etc.), and companies competing with one another by offering singular/plural versions of various words (.SUPPLY vs .SUPPLIES) too, it's unsurprising that people would face them with the same fear I feel every morning at the Asda sandwich counter.
There's still plenty of potential if you bag yourself the perfect gTLD, and some – especially location-related ones – can really be great for your biz: used wisely, they can make you more searchable, strengthen your brand and give an insight into your service. But maybe companies will have to start looking at how they're marketing and selecting the gTLDs that they sell, so that what we're getting is .quality not .quantity.
What do you think – are there too many new gTLDs being released or is it important to have the choice?
We have loads more information on the new gTLDs, and you can register a domain with us too!