Don't Let Them Pull A Fast One
We all know that feeling – you get an email from someone new and it's all 'Yay, someone other than my mum/gas provider/boss is emailing me'! And THEN you find out that email has given you a virus. Oh yes, it's the gift that keeps on giving; but what it's giving is grief! There's currently an email scam impersonating UKFast, and we want you all to be aware of the situation, and to be safe.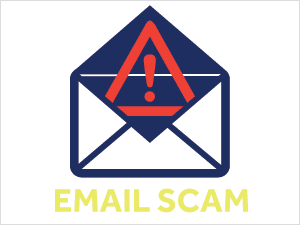 When it comes to online security, it's easy to be trusting – too trusting. And as we're all well aware, email scams happen all the time, so as standard, we advise to keep antivirus software up to date and not click on links from unsolicited/dodgy emails. But sometimes the wolf comes to your door, and – if a working knowledge of fairy tales has taught us anything – it's important to learn from Nana Riding Hood's mistakes and not answer it.
We're currently investigating a seriously cheeky spam email that's being sent out in our name, with our email signature; please don't be fooled, it's actually carrying a virus attachment, like some fat cyber blimp of doom. And is nowhere near as charming as our usual correspondence. These rubbish people haven't hacked us, they're just impersonating us (imitation is the sincerest form of flattery, but it's one we could do without amirite??), but it's putting other people in danger and that's just not on.
**First up, please be aware that we never send zip files in emails, so do not open any zip files you receive in an email that looks like it's from us.**
The spam email contains a "UKFast" invoice pretending to come from UKFast Accounts <accounts@ukfast.co.uk>  and is yet another from the current bot runs trying to download various Zbots, our old friend Cryptolocker, ransomware and other unwanted malware house guests on our computers. Well, not today spammers.
They're using email addresses and subjects pretending to be from us to entice you to read the email and open the attachment, because obvys you'd want to read all the awesome things we normally send you (like our newsletters, which are packed full of fun information – sign up in MyUKFast if you're missing out!). However, if you have opened the attachment, we recommend running anti-virus software immediately.
I cannot stress enough that there have been no hacks or breaches of UKFast and we are investigating how the spam emails are being sent so that we can put a stop to these cyber cowboys. The spam is targeting a range of people – both UKFast clients and non-clients – so you may well receive the message at some point today, and we want you to be prepared in case you do.
We may jest but we take security incredibly seriously and we're investigating where these spam emails are originating from and how we can stop them in the future; and there's more info available if you've got any concerns or queries. Please remember that if you've ever received a spam email your address is out there for other scammers to use, so be extra cautious. Use that junk folder and spam filter, and flag things up if you can to help your email provider filter better; antivirus is your ally – these guys are not. Be vigilant friends, and be safe.