I'm Annoyed – Are U 2?
I came home late the other night to find that an entire U2 album had been mysteriously downloaded onto my iTunes. Considering that I took against Bono some time ago, and I really don't like U2, I assumed it was a tiredness-induced hallucination or that my housemates had decided to launch psychological warfare against me. The reality was far more sinister. Apple had 'gifted' me, along with half a billion other unsuspecting iTunes users, U2's latest album 'Songs of Innocence'… by automatically pushing it onto our devices. Well, the only gift it gave me was a more comprehensive knowledge of the delete function. The internet is up in arms about this latest stunt; here's why.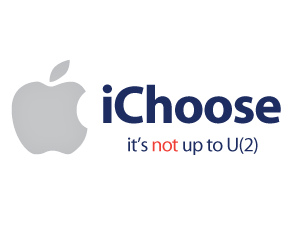 The announcement of the album happened at an Apple event in California, where the latest iPhone and smartwatch were also unveiled. On the one hand, the album is free (until 13th Oct), and I'm not one to turn my nose up at free stuff; on the other, what Apple probably saw as a cutesy gimmick 'surprise', has been making many of us feel kind of violated (my favourite description so far is "rock-and-roll dystopian junk mail"). Especially with all the privacy and security fears at the moment, and with people more wary than ever about what corps and govts are doing with their tech, it's not surprising it's backfired.
If you've got 'automatic downloads' turned on, you will have had the album pushed to your device; as if it wasn't seriously confusing already, it also coincides with changes to the settings on devices. Considering that if we read all the privacy policies for all the things, it would take us 250 hours a year, it would be nice if they didn't mess us about any more than necessary.
Even more unfortunately, it's harder to remove from iTunes than red wine on a white carpet; which has caused such a backlash that Apple has been forced to release a tool to make deleting the album easier. There's a dedicated removal page, which graciously tells you that you can 'choose to remove' the album, but that once you remove it, it won't be available to re-download. Gutted. Aaand even if you delete the iTunes version from your device, it will probably still be loitering about in your iCloud.
Apart from being just a bit invasive, many people feel that their music collection is a really personal thing; plus it takes up valuable space you could be using on more important music, like the Best of B*Witched. And that's the best case scenario – the implications it has for security are even worse; it follows days after a phishing scam that told iTunes users that they'd bought a film on iTunes on an unregistered device, and had to cough up their Apple ID details. It's not a leap to imagine someone finding an unknown album on their iTunes, thinking that – because this time it was legit – that maybe they'd accidentally downloaded a film too, and giving up their details. And don't even get me started on how bad the timing is after the celeb iCloud leak…
Tech news site Recode said that the album had been downloaded about 2m times in three days but they didn't specify how many of the downloads were consensual. U2's manager Guy Oseary is saying it won't be the last time U2 and Apple work together: "We're working on other things as well with Apple that have to do with how music is heard and innovation". It's true that there are great opportunities out there for music and tech to work together, but sorry (not sorry) Bono, using it to take away people's choice probs isn't one of them.