Stay 'Appy, Avoid Rejection
Oh rejection, why are you the worst?? We've all been there – unpublished articles you wrote, family holidays you weren't invited on (don't ask), the boy you fancied like mad in nursery school who went out with your best mate instead (thanks for nothing, Chris Smith*). Oh yes, rejection sucks. But if it's your livelihood on the line then rejection can mean more than wounded pride and withholding the apple segments at break time; it's potentially years of wasted time and money. Apple has just released a list of its top reasons for rejecting apps, and while the rules may vary depending on who you're submitting to – Apple, Android, Windows or wherever – there are a few things that are probably true across the board: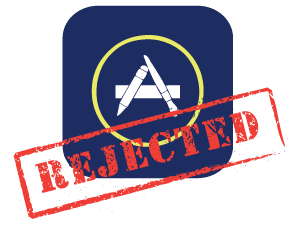 Don't make them chase you. The number one reason for apps failing with Apple was not giving enough information; just like applying for any other kind of job, app store decision-makers are busy people and they aren't going to chase you. First up – the basics – make sure your contact details are present and correct. Then, ask yourself "What exactly do these guys need in order to use my app?" For example, if a demo account is needed to test it, make sure you give details; explain any extra settings or special features; and if it needs a demo video to clarify anything (like that it needs to plug into a particular piece of hardware to work), cough it up.
Sort security first. If your app has more bugs than a warm night on the continent, then no way are you getting approved – especially in the current climate of cyber fear. Sort it out before you send it in.
Give it a good shelf-life. Keep asking, is this something people will use more than once? Will it still be engaging the third, and three hundredth, time they use it? It can't just be a marketing tool, and dynamic content is always a plus: you need to give people a reason to stick around. Oh, and nothing that sounds even vaguely violent either…
Make sure it's easy to use. 'User Interface', or user experience – or whatever you want to call it – is important. If your app isn't finger-friendly, for instance, then people won't bother, no matter how original or fun it is. And if you've got ads and pop ups and stuff make them relevant, and place them as inconspicuously as possible.
Use common sense. This is harder to define – and kind of an extension of the above – but basically, don't annoy your audience. If you have lots of links that don't work, placeholder content (missing images) or a load of extra rubbish in there that's going to frustrate customers, then it's probably going to annoy the people you're pitching to as well; just one broken link or 'coming soon' will ruin your chances. These are things that may seem obvious but – like typos in CVs – lots of people probably still do them.
So, if you're making an app, keep your audience in mind, and make sure you're pitching to the right people. Read their rules, if they have any knocking about; keep an eye on them in case they change. Making something that stands out (maybe by choosing a niche that's still unsaturated, or a new angle on a popular area), but that also abides by the rules, can set you apart. Tech can be a harsh mistress but with the potential out there for developers right now it's worth saving yourself some heartbreak and putting the research in the first time around; if not you'll soon find yourself on the rocky road to rejection.
What are your tips for getting apps approved by an app store?
To find out how you can 'develop' your business with web hosting, take a look at our solutions, or give us a call on 0208 045 4945.
*Name has been changed to prevent any fans undertaking vigilante justice on my behalf