SMART 'STICKS, SMARTER EATING
If there's one thing that makes me feel a bit murdery, it's chopsticks. OK, one of the things that make me feel a bit murdery. But luckily not everyone harbours the same – mildly deranged – feelings as I do, because those twin sticks of evil have found a way to redeem themselves. Chopsticks, as it turns out, are set to become the next piece of smart tech, and a weapon for saving lives (instead of destroying them).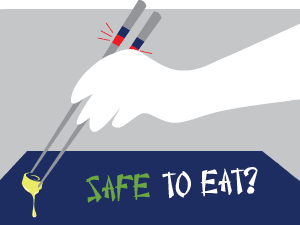 'Smart tech' is a buzzy new umbrella term for tech that connects to the internet or communicates M2M (machine-to-machine), and it's taking the next step – from heating our homes, ordering our milk, and shaming us into recycling, to saving lives. Chinese search engine Baidu has created chopsticks – known as Kuaisou in Chinese – that can detect when food is safe to eat.
The tech started as an April Fool's gimmick but, after generating lots of excitement, is now looking set to become a reality. It runs alongside a smartphone app to measure the freshness of the oil used for cooking and eventually may also be able to tell temperature, PH levels and calories too. It's something you'd hope to never have to use but, since China's recent foodie history includes recycled "gutter oil" scandals (cooking oil made from slaughterhouses and other fun places), run-ins with toxic milk, food coated in paint (because it 'looks better'), and – my personal favourite – glow in the dark pork, it may not be a bad idea.
It's not being commercially produced yet but is a cool example of how technology can be used for the power of good – not just making our lives more convenient, but actually keeping people safe. People have been all over social media responding to the tech, with comments including: "If I carried these chopsticks around with me everywhere, I think I'd die of hunger," which is er, worrying…
Considering China accounts for nearly 20% of the world's population, this could be an important piece of the smart tech puzzle, and coming to a superpower near you soon; then maybe everyone will be able to enjoy the sweet (and sour) taste of victory.
To find out more about the technology behind your solution at UKFast, contact your account manager or give us a call on 0800 045 4945.