Are You In The Right 50 Percent?
Many of us will be familiar with BYOB, but BYOD is a term that's not only important to a business strategy, it's also much less likely to get you fired if you implement it at work – well, as long as you implement it correctly. Recent research shows that more than half of businesses don't have a bring your own device (BYOD) strategy in place and yet, as the world goes mobile, not having one is just as dangerous to your business as turning up drunk. So, how can you make sure you've got BYOD down?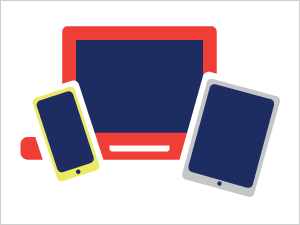 A survey by Ovum and Dimension Data has shown that 71% of IT departments know how important it is for employees to able to access data anywhere, but 70% still don't have a BYOD strategy in place. 67% of these say it's because of business risk and compliance, but not having one can be riskier in the long run: if you don't put a strategy in place, employees will probably go vigilante and do it anyway, just without the proper tech, knowledge and safeguards.
BYOD can be interpreted slightly differently, but is basically when an employee uses their own device – mobile, tablet or laptop usually – for work purposes. If you're careful then it can be an amazing and flexible way of encouraging your employees' work, but before you get to the awesome, rewarding bit, first you have to strategy-up.
Gartner analyst Leif Olof Wallin reckons 90% of Gartner's clients have BYOD in place but not necessarily the strategy to support it. Research from Samsung earlier this year supports this, as it found that 29% of employees use their own devices without knowing if it's part of their workplace policy. It might seem like a hassle now, but getting to grips with BYOD now could actually save you in the long run, as having employees running about with data on their devices can lead to security breaches or lost/confusing data; not doing BYOD well also has the potential to create some very annoyed employees if their personal info or device gets messed up!
At the end of the day, it's important that employees act responsibly and are aware of the risks when they use their own devices for work-related biz, but it's the people at the top who should be creating and enforcing the policies. A serious BYOD plan is needed, but there are lots of basic precautions you can take. For example, clearly lay out responsibility in case something happens, and have employees separate their personal and private data – this may translate into using personal cloud services to back up personal data and corporate cloud to back up business work.
When you're drawing the policy up, make sure there's company-wide representation to ensure all angles are covered, and that guidelines are set up for things like sensitive data. Ensure the network is up to the extra strain and keep on top of the trends: Wallin has seen a move toward tablets (originally mainly iPad but now also Android), so ensure your policy accounts for things like that. Create a shake-down procedure at the end for when an employee leaves and a code red strategy for if the phone is lost or stolen – Wallin says that devices left in the back of taxis are one of the biggest risks. The most important thing is to have a set training procedure for the staff and constantly update it so it's current.
BYOD is only going to get more popular, so make sure you're in the percentage of people who do have a strong strategy for protecting their company from all angles. What tips do you have for setting up BYOD?
If you have any questions about the security of your solution at UKFast contact us on 0800 045 4945 or give your account manager a call.