NO SLEEP PLEASE, WE'RE BRITISH
Despite the fact that sleeping is pretty much my favourite thing to do, it turns out that the rest of the UK may not agree with me, as a recent study has shown we spend more time teched-up than asleep each day. When digital news started overtaking printed newspapers, we were worried about the future of print journalism; now that our digi-lives are starting to overtake sleep, should we be worried about the future of a whole load of other things too?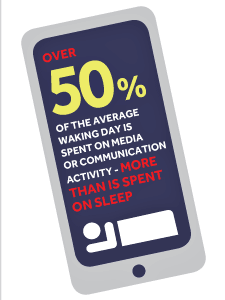 Ofcom got their research on and spoke to 2,800 British adults and children, and found that adults spend an average ofeight hours 41mins each day texting, talking, typing, gaming, listening or watching, and only an average of 8 hours 21mins each day sleeping (and to be honest if you have Netflix, the balance is probably even bleaker). Talking to 12-15 year olds, only 8% said they used email, and only 3% said they communicated using a landline phone; gone are the days of calling your best mate five seconds after you get home from school to catch up about the bus ride it seems. They also found – I think this is my favourite bit – that on average six year olds have the same confidence when using tech as 45 year olds.
This could be a boost for ecommerce businesses as tech calls top trumps – and social media sites have already started to integrate shopping on their services – but for other things (like our sanity) could it be detrimental? We've seen how the youth of today experience substance-esque withdrawal symptoms when forced to part with their tech, and some psychologists reckon it's making kids more antisocial. It can also promote obesity and diabetes; and using tech late at night has been shown to have hangover-like symptoms, which, let's be honest, we really don't need to increase our chances of.
It could also kill off other services like live TV and radio as we're streaming more now, not to mention brick and mortar stores. There is hope though – 84% of adults surveyed still use books and CDs, and a third said they still send a real life letter every month. Still though, looks like tech providers are going to have to up their game to keep up – and possibly invent something that can replace all the sleep we're missing out on!
Some suggest limiting your tech intake every day, much like you would with other things that are bad for you, like alcohol or talking to your in-laws. It's also important to look after your health if you're in front of a screen every day – luckily we've got a few tips on how to stop your computer melting your mind and body. At the very least we should make sure we're putting those extra tech hours to good use. Now excuse me while I go and start watching Breaking Bad…
Our tech lets you sleep easy, rather than keeping you up all night. To find out more about what's going on behind the scenes of your solution call us on 0800 045 4945 or contact your account manager.